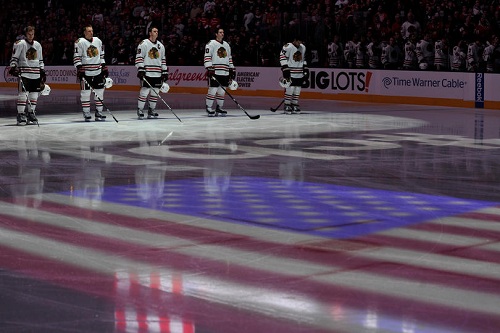 Since Chicago took losses to both the Colorado Avalanche, which ended their streak, and the Edmonton Oilers, their schedule has slowed down a bit. And for that, Blackhawks fans are grateful. The Blackhawks had only one game so far this week, and it was an overtime win against the Columbus Blue Jackets.
While the streak was impressive, it had to end sooner or later, and by the way the Blackhawks were quickly burning out, sooner was expected. Now that it's over, Chicago was able to take a bit of a break, rest up, and move on with the rest of the season. That looks to be what they're doing.
Chicago did take a win against Columbus but it had to come in overtime after giving up the lead in the game. It was a big game, however, as Patrick Kane was able to snag his 400th career point, and of course it was an assist, off a goal by Johnny Oduya. Kane would go on to score in the shootout to help lead the Blackhawks to a win. That shootout goal gives him a career total of 27, which leads the Blackhawks and puts him in the 8th spot among all other active NHL players.
Chicago also currently has 47 points on the season, enough to grab the number one spot in the league and, some predict, only a few points away from clinching a playoff spot.
However, the rest of the league wasn't star-struck by Chicago's win streak, and they have slowly, but surely, catching up with Chicago in the points totals. The Anaheim Ducks are right behind Chicago in the second place slot, with 43 points, and are currently 7-1-2 in their last ten games.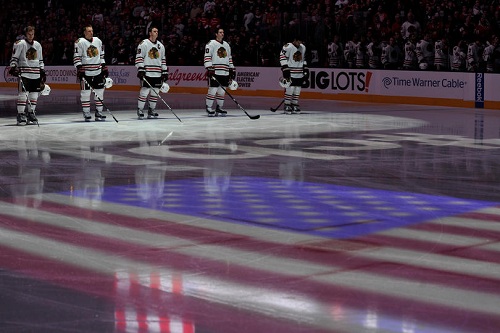 Next stop for Chicago is Dallas, where they will be visiting the Dallas Stars. Corey Crawford will get that start. "The Crow" (possibly one of the coolest nicknames for a goalie since the 1970's) currently has 12 wins under his belt this season which ties him for second among NHL goaltenders this year.
It's also important to note that star left-winger, Patrick Sharp is still on the injured list. It seems that Chicago has felt Sharp's absence, as their two recent losses came off the heels of Sharp being placed on IR.
Steve Montador and Rostislav Olsez have been sent down to the minors, while Jimmy Hayes has been moved up from the American Hockey League's Rockford IceHogs. Olsez was traded to the Blackhawks for Stanley Cup-winning defenseman Brian Campbell.
The good news is that Hayes is fitting in nicely to the roster, and coach Joel Quenneville has been playing with the lines; moving players around. That's a good sign. Quenneville has a knack for seeing who could work with who and that magic touch has served him well in the past. It will be interesting to see what he'll pull out of that magic mustache with a veteran All-Star like Sharp out, and a promising rookie like Hayes in.