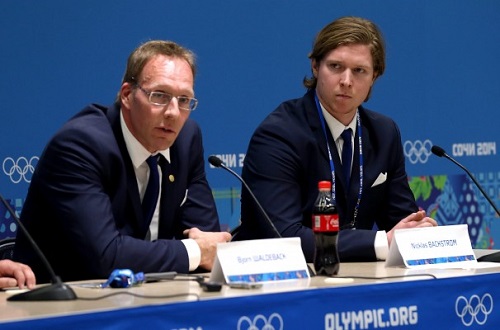 Doping, a serious claim made against professional athletes when they are believed to be using performing enhancing drugs. These players are normally doing this without the team or team doctor knowing about it. The "dope" is normally drugs like HGH, human growth hormones, or PEDs, performance enhancing drugs. What you don't think of when you hear that a player is "doping" is that the player has been taking it for seven years. You don't think that the team doctor is well aware of the players use of the drug, or that he admits that he is taking it.
That is the case for Nicklas Backstrom, center for the Washington Capitals and the Swedish Olympic Team. Backstrom has been taking Zyrtec-D for seven years for his severe allergy problem. The drug itself is allowed, but one of the ingredients, pseudoephedrine, isn't allowed in IOC if the level are above 150 micrograms per milliliter. According to Mark Aubry, International Ice Hockey Federation's chief medical officer, stated that Backstrom's levels were at 190 in a test done after Sweden's quarterfinal win over Slovenia four days before the Gold Medal Game. Team Sweden wasn't notified of the fail test until hours before the Gold Medal Game, because the IOC quote "had too many tests to process to deliver the news sooner".
Two and a half hours before one of the biggest games of Backstrom's career, he was pulled aside and told he wouldn't be allowed to play. An emotional Backstrom was quoted saying "I have absolutely nothing to hide. I have allergy problems" in a presser. "I was ready to play probably the biggest game of my career, and two and a half hours before the game I got pulled aside. It's sad."
What adds salt to the wound is that a similar event occurred during the 2010 Olympics in Vancouver. NHLPA official Mathieu Schnider brought up that Lubomir Visnovsky of Slovakia tested positive for the same drug and was going to be held out of the Bronze Medal Game. However, the IOC allowed Visnovsky to retest two days later and he was allowed to play.
Nicklas was an innocent victim in this case of "doping". Mark Aubry and Mathieu Schneider both agreed that Backstrom wasn't doping. Aubry said that he "is an innocent victim, and we support him strongly". Schneider called the process flawed saying "I think it's clear that he wasn't intending to cheat, that he wasn't doping. Doping's a very serious allegation, and at some point common sense should have prevailed, and it clearly didn't."
Backstrom is still waiting to see if he will be given his silver medal. The IIHF took it back to their headquarters in Zurich while they await the IOC's ruling. The good news out of this, if there is any, is that Backstrom shouldn't be facing any NHL punishment according to NHL Deputy Commissioner Bill Daley. Daley also said "It is our further understanding that the positive test was the result of a common allergy medication taken by the player knowingly, with the approval of the team doctor and without the intention of gaining an illegal or improper performance-enhancing benefit," The NHL allows pseudophendrine at all levels.