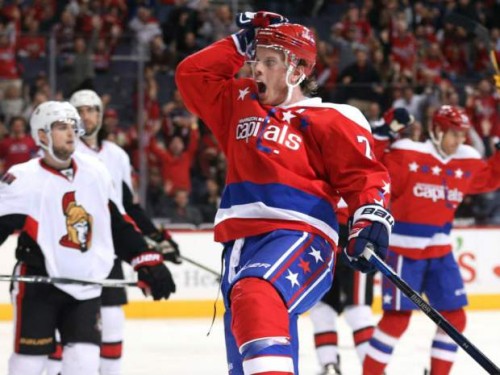 The holiday season is a time for gift giving.
So it's fitting the Ottawa Senators have made a habit out of gifting their opponents early leads for most of December – and much of the entire season, for that matter. In their 12 games this month the Sens have surrendered the first goal a staggering 10 times, managing a 5-6-1 record in that span.
Unfortunately for the Sens, December has been reflective of a disturbing trend: they have given up the first goal an abysmal 23 times in 35 games through Dec. 22. If not for its relatively strong play in those situations – Ottawa has the tenth best winning percentage (.304) when it allows the first goal – the team could be in a much worse spot than 5th place in the Atlantic Division.
That the Sens haven't been able to rack up more than the seven wins they have recorded in those 23 games is perhaps surprising considering their shooting metrics in those games. Eight times they have recorded a Corsi for percentage at five-on-five above 50 (including three times reaching at least the 60 per cent mark) but were unable to win any of those games.
Although it's a small sample size, the Sens have played like a completely different team in those rare instances when they do score first. Of the 12 times they have opened the scoring, Ottawa has gone on to win 10 times, giving them an .833 winning percentage that ties them with the New York Rangers for third in the league in that category.
In an ironic twist, their shot totals in those games suggest the Sens should be much less fortunate than their 10-2 record would imply. Ottawa's CF% at five-on-five has surpassed 50 just once in games when it scores first, and of the four times it has dipped below 30, Ottawa has found a way to win twice (the other two games being Ottawa's only losses when it opens the scoring).
Considering the uphill battle they wage on a nightly basis – either attempting to claw back from a deficit or fending off a flurry of shots trying in vain to preserve a lead – it's no wonder overtime has become a staple of Sens games. Just over one third of their matches (12 of 35) have needed extra time to determine a winner, which includes six that needed shootouts.
With so much extra hockey played to date, injuries and fatigue become of even greater concern – a fact that has not escaped the Sens. Craig Anderson only recently had his streak of 15 consecutive starts snapped when Andrew Hammond finally returned from a concussion, and was fortunate not to incur any major bumps or bruises along the way.
The same can't be said for the rest of Ottawa's lineup that has been decimated by injuries. Just on their recent trip to Florida the Sens lost Curtis Lazar, Bobby Ryan and Cody Ceci to injuries, and had a couple of injury scares with Mark Borowiecki. These recent setbacks compound a pre-existing problem, adding to previous injuries suffered by Milan Michalek and Clarke MacArthur.
If there's only one positive to take away from the first 35 games, it's this: The Sens have continued to keep pace as one of the top scoring teams in the league, sitting tied for second with 105 goals. If they can lighten the load for their goalies going forward there's a very good chance the Sens could make a push up the standings in the New Year.