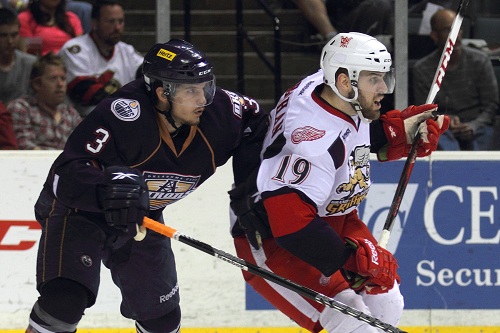 The Oklahoma City Barons entered the Western Conference Finals having done extremely well in the semi-finals against the Texas Stars, not only winning games but doing so with large margins. They faced the Grand Rapids Griffins at Van Andel Arena on May 24 in Game One of the Western Conference Finals series, looking to grab the first win in the seven game series. However, it was the Griffins that pulled out a 2-1 victory over the Barons, establishing a 1-0 lead in the series.
Barons goalie Yann Danis made 26 saves on the Griffins' 28 shots, but unfortunately the Barons weren't able to pull out a win.
The night's first goal was made by the Griffins' Brennan Evans, 7:15 into the first period.
The Oklahoma City Barons, coming in from their previous victories against the Texas Stars, were not content to sit back and let Grand Rapids maintain their lead. The Barons' Andrew Hotham received a pass from Jonathan Cheechoo and buried it between the pipes, tying the game 1-1 with about 3 minutes left in the first period.
The teams entered the second period with a tie, leaving the window open for both teams to rally and claim the first victory of the series. It was the Griffins' Landon Ferraro that broke the tie and brought Grand Rapids back into the lead with a goal 2:35 into the second period.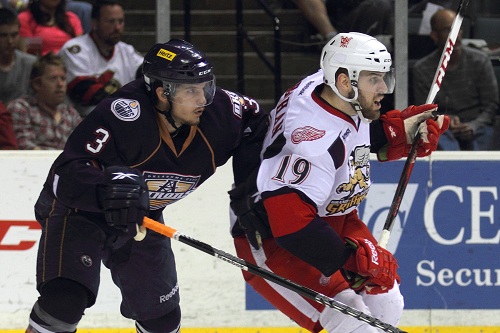 The Barons had a few great chances in the third period, most notably a pass from Pitlick to Josh Green in the slot that unfortunately ended up fruitless as Mrazek made a great save and maintained the Griffins' lead.
Barons goalie Yann Danis was pulled with a little over a minute left in the game in favor of an extra attacker, but the Barons were ultimately unable to rally and at least tie the game to bring it into overtime.
Both teams failed to convert power-plays in the game, and shots on goal were tied at an even 28 per team.
Coach Todd Nelson commented after the game that "we were pretty rusty. We just didn't have our execution down tonight."
Jonathan Cheechoo stated in a post-game interview that "it's the playoffs and everybody tightens up a little bit. When you have two skilled teams going up against one another, you get more of a defensive hockey game because you know what the other team is capable of." "I don't think you can [panic] in the playoffs," he later added, "you can't afford to."
The two will meet again less than 24 hours after the May 24th match up in Game Two of the series on Saturday, May 25.