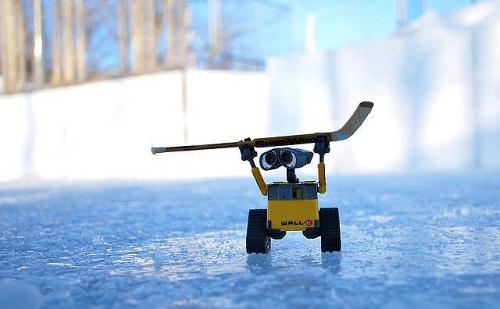 Welcome hockey fans to the 1st edition of Between the Blue Lines! Today we'll touch on the Kovalchuk situation and what a Western Conference team can do to rebuild their team among other things. Let's get started with the first question!
First question:
1) Do you think NHL teams will be less inclined to sign Russian players in light of the Kovy retirement and what could the league do in the future to prevent something like that from happening? – Mike Went
Igor Burdetskiy (@IgorBurdetskiy): I don't believe this particular incident is going to make GMs become reserved to signing Russian players the least bit. The true problem actually resides in GMs singing players to ridiculously long term deals (such as what the Devils did with Kovy). Also, any player of non-Russian origin can go and play in the KHL.
Scott Finger (@Hockey_Scribe): I wouldn't worry about that. While the KHL is the NHL's biggest competitor, the leagues aren't even close. The KHL has a hard salary cap of $U.S. 36.5 million, good for about half the NHL's cap of $64.3 million next season. According to a translated table posted in HFBoards, last year, more than one-fourth of all KHL players made less than $U.S. 150,000. The league minimum in the NHL is more than four times that amount at $500,000. Only 37 of 791 players made more than $1.83 million. Assuming that players won't play in the KHL for less than what they're offered in the NHL, very few players will be interested in bolting to Europe. The league doesn't really need to do anything to prevent players from bolting, and there's nothing they can do to stop determined players from bailing.
Second Question:
2) Why do you think Kovy did what he did and just bail on the New Jersey Devils? – Brian Zielinski
Kevin Cawthra (@KevinCawthra): Kovalchuk threatened before the lockout ended last season to stay in the KHL if the NHL didn't honor his massive contract; I think that could've been a sign he wasn't going to return after next season. But why did he do what he did? Probably because he had a good time in the KHL playing for his home country during the lockout last season and also enjoyed being with family more often with a less extensive travel schedule unlike the NHL where you travel coast to coast. I hope Kovalchuk returns to the NHL he's a great player, and he's really fun to watch.
Prashanth Iyer (@iyer_prashanth): I don't believe there was any malicious intent in Kovalchuk's decision to leave the Devils. I believe that Kovalchuk got a taste of what it would be like to play at home during the lockout and he wanted to be at home close to his family. In terms of whether or not this will affect the signing of other Russian players by NHL Teams, I highly doubt it. While the KHL is often played up to be a rival of the NHL's, the fact is that it is far from it. Only 4 or 5 teams break even in terms of finances each year in the KHL. The top players in the KHL are guys that couldn't make it in the NHL such as former Kings Defenseman Kevin Dallman. All the other top Russian players are already locked up and I don't see this stopping NHL teams from signing the Russians.
Third Question: Which team is in the most need to win the Cup next? Could be based on financial, older players, coaching…. – Mark Barkhouse
Kevin Cawthra: I believe it has to be the Vancouver Canucks or Toronto Maple Leafs. Why the Canucks you ask? Well the team has a very narrow window at the moment; the core of the team is aging and will start slowing down and with Tortorella as the new coach it could take a real toll on the team. And with the Leafs it's a no brainer. You made the playoffs successfully last season, you narrowly almost beat the Boston Bruins in a game 7, it's time the Leafs went all the way, you have a good quality young team, it's time to win.
Scott Finger: I'd have to go with the Vancouver Canucks. In addition to their key aging players – Luongo (34), the Sedins (32), Burrows (32) and even Bieksa (32) – the Canucks have yet to win their first Stanley Cup, and that's simply not going to fly in a city as riotous about hockey as Vancouver, especially given their talent level and recent playoff failures. They still have a few years left while their core will be intact and young enough to win, but they really need a win while Luongo has some life left, now that they got rid of Schneider (mistake). Honorable mention to the Sharks, who are in a similar situation. There are also a lot of teams that just need some general success, never mind a championship (Columbus, Nashville, Florida).
Fourth question: Do you think that the publicity and prestige that surrounds the Original Six teams helps or hurts the other teams and the NHL as a whole? – Andrea Cullimore
Igor Burdetskiy: I think having that type of history embedded in the game is good. The Original Six have a lot of the stage light on them through the season and the pressure is there for these teams to make the playoffs every year. As the NHL continues to throw different marketing loops with outdoor games and now realignment; I think every team will soon enough have a little more recognition and time nationally. There are struggling teams, but as a whole the NHL is still profiting on a year to year basis. The Original Six are a huge part of the NHL but they are not the sole reasons that make the NHL the best hockey league in the world.
Prashanth Iyer: Honestly, I think it has not hurt the other teams one bit. When Original 6 teams matchup, the NHL benefits greatly in terms of marketing, fan interest, and revenue. But I don't feel that this takes away from the other teams one bit. I do think that the Original 6 teams get a little more national attention, but teams such as the Pittsburgh Penguins and Washington Capitals still receive a large bit of media attention. Essentially, if you build a good team, you will receive the publicity.
Fifth question:
Do the Flames need to make a trade to improve their team? Who should they target? What should they give away? – Kobe IsbestfriendswithJax Dziuba
Scott Finger: As evidenced by the Jarome Iginla trade last season, the Flames are in rebuild mode. They need to get better through trading veterans, drafting, and player development. There's no way I see Miikka Kiprusoff, who's in the last year of his contract, finishing the season in Calgary. He'll likely be a deadline deal for a team that needs goaltending. He'll be traded for prospects and picks, as will Mike Cammalleri, who's also in the last year of his deal (and making a ton of money).
Prashanth Iyer: The Flames are in a very tough spot. They just went into full rebuild mode this past offseason when they dealt away their longtime captain Jarome Iginla. If the Flames plan on continuing the rebuild, the two main targets I would look at dealing away are Mike Cammalleri and Miikka Kiprusoff. Some contenders may be willing to deal away some prospects in hopes of making a big push for the Stanley Cup and those 2 guys could attract some attention. Right now, the Flames need to stockpile their young talent. Sven Baertschi is the best player they've got right now, but after him, the Flames do not have much coming up. John Gaudreau looks decent as a left winger but is just 5-7. Max Reinhart has the chance to be a top-6 player but again, it'll depend on his development. The best bet for the Flames is to deal away their veterans and stockpile draft picks and prospects because their talent pool is low