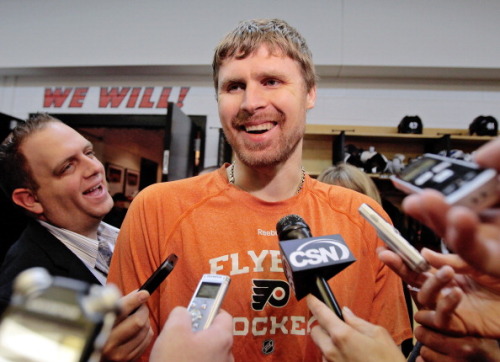 He's baaaaaaaaaaaack.
Yes, Bryzgalov is back in the humungous big NHL Universe. The Anaheim Ducks announced Wednesday that the 34-year-old goaltender will be joining the team on a tryout basis and could sign a deal just like Martin Brodeur did with the St. Louis Blues. Bryzgalov split the season last year with the Edmonton Oilers and the Minnesota Wild; he also appeared in 9 playoff games with the Wild.
Frederik Anderson has been carrying the load since John Gibson went down with a groin injury, and Jason LaBarbera doesn't seem like a viable backup right now for the Ducks.
Bryzgalov was drafted 44th overall originally by the Mighty Ducks in 2000. He made his NHL debut in 2001-2002 and won a Stanley Cup as the backup goaltender in 2007. In that same year, he was waived by the Ducks and the Arizona Coyotes picked him up.
Before the season started, Bryzgalov tried out for the Wild, but he didn't land a roster spot. Bryzgalov's agent also reached out to the Colorado Avalanche in October after the team was having injury problems at the goalie position but didn't make it there either. Bryzgalov is the third ex-Wild player from last season's team to join the Ducks this season. Dany Heatley, Clayton Stoner and of course Bryzgalov are the three Wild players that Bob Murray has recruited this season.
The Ducks offering Bryzgalov a professional tryout is perfectly fine and understandable right now, but I don't think it's a good choice for them to sign Bryzgalov to a contract. He's way past his time, and he's not good anymore.
The Ducks need to wait it out a few weeks and let Gibson return, give Igor Bobkov a chance to play in the NHL for the first time and see what happens. It's not like they're fighting for a spot in the playoffs. It's early still, don't make that mistake and sign Bryzgalov. Keep him out.