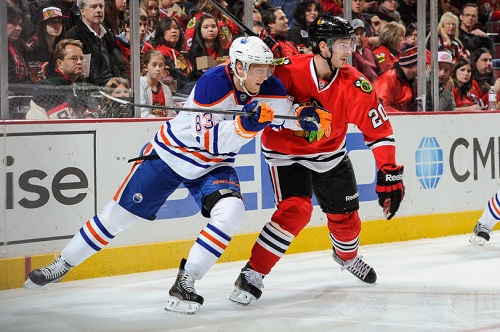 Going into tonight's game against the Edmonton Oilers, the Blackhawks' motto "One Goal" takes on an entirely new meaning. The last three match-ups between Chicago and Edmonton have been decided by only one goal, and there's a good chance that tradition could continue tonight. Coach Joel Quenneville has called Edmonton a team that can "come at you", and with their recent turnaround, posting three straight wins, there is no doubt that the Oilers will be looking to do exactly that.
Winger Marian Hossa is expected to miss tonight's game, Quenneville told WGN Radio this morning, but he could rejoin the team for the rest of the trip. His presence has been missed on the ice, during both his time out with injury and his subsequent return to Chicago to deal with a "family matter". Our thoughts are with Hossa and his family, and the news that he could be returning to the Blackhawks is encouraging.
Michal Handzus is expected to return to the lineup as well, perhaps as early as tonight. Handzus has been out with an upper-body injury since late October, and he is anxious to get back into the swing of things. He only played nine games with the team after offseason surgeries before his current injury sidelined him, and the veteran center is no doubt ready to try to shake off some of the rust. Handzus probably won't be back at his second-line spot from last season, given that Brandon Pirri has made himself at home there, but he could slot in for injured winger Bryan Bickell (expected to be out a few more weeks with a left leg injury) on the third line.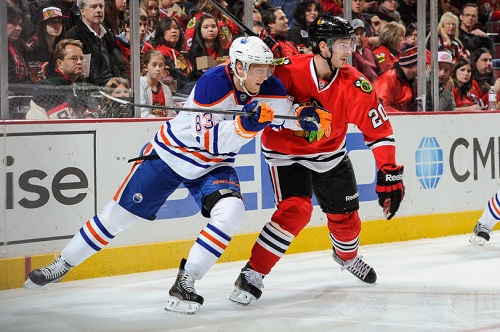 "I play wherever they ask me to, and I've always been like that," Handzus said. "I love to play anywhere. I just love to play."
Tonight's game against Edmonton is the fourth of seven on the the Blackhawks' annual "Circus Trip", and where we could potentially see backup goaltender Antti Raanta make his first start. There's no reading Quenneville's mind, of course – he could decide to keep going with Crawford – but it makes sense to get Raanta in sooner than later, and to rest Crawford, given that he can't actually start all of the remaining games this season.