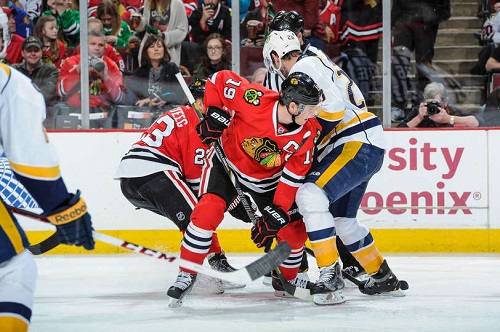 "I just think our speed, our pace, our puck support, our work ethic is eroded a little bit, especially the past two games," Joel Quenneville told the media after the Blackhawks practiced Saturday morning.
Quenneville made it abundantly clear to those taking questions that he has been less than impressed with the effort he is getting from his team of late. And he's got good reason to feel that way; the Blackhawks are 5-5-0 in their last 10 games, a less than ideal record for the defending Cup champs. Perhaps more worrying, though, is the fact that they haven't beaten a team in their own division since their December 27th 7-2 win over Colorado.
As they are almost guaranteed to meet a Central division team in the playoffs, this could prove to be a problem.
Brian Hedger, writer for NHL.com, asked Quenneville post-practice if the team's skill invites them to try doing "too much". Quenneville didn't take too kindly to that, not because of the question itself, but because of his team's effort lately – or, more accurately, lack thereof.
"I wouldn't say we're guilty of trying to do too much the last couple of games," Quenneville said. "I'd like to see more of doing something. Just the opposite of what you were saying," he added, for extra emphasis.
Not exactly the kind of thing a team wants to hear from their coach. Frankly, though, it's something that these Blackhawks need to hear. They're a much better team than the way they've been playing lately. Sure, Marian Hossa has been out, but he's hardly a magic solution to the problem they have: namely, letting off the gas at inopportune times and allowing other teams to dictate the style and pace of the game.
"If you're looking for perimeter, non-confrontational kind of game, the other team will accommodate that," Quenneville said. When asked about games that got away, he didn't shy from the issues. "We didn't challenge pucks, we weren't hard in the puck area, we were easy to play against…"
If the Blackhawks want to have a chance at repeating their 2013 Cup win – and we've heard from many guys through the course of the season that they do – "easy to play against" is something they absolutely can't be. So what is it going to take to fix this problem?
Quenneville's suggestion of wanting to see "more of doing something" might be a good place to start.