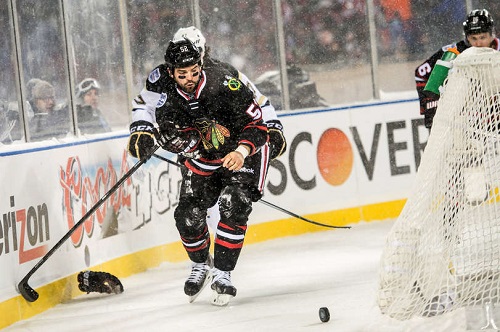 Brandon Bollig knew coming out of last season that if he wanted to stick with the Blackhawks, he would have to make some changes. He could no longer just be the fighter. He needed to be a guy that the team could count on night in and night on for more than just his physical play.
Bollig worked assiduously during the offseason to make those changes, and Monday he was rewarded for it.
The Blackhawks announced Monday morning that they had signed Bollig to a three-year, $1.25 million AAV contract extension that would take him through the 2016-2017 season. Bollig, signed as a free agent during the 09-10 season, is currently having the best professional season of his career, tallying 6 goals and 6 assists so far and playing in every game of the season (previous seasons have seen Bollig as a healthy scratch as often as not). His play both with and away from the puck has improved dramatically, and he's starting less than 18% of his shifts in the offensive zone, playing against tougher competition nightly than guys like Bryan Bickell.
General manager Stan Bowman has commented several times this season about liking what he's seen in terms of Bollig's development and work ethic, and had this to say about the extension:
"We take a great amount of pride in having watched Brandon come up through our system and become a big part of our lineup on a daily basis. We are pleased to be able to come to this agreement with him, ensuring that he will remain a part of our organization. We look forward to seeing his continued development with the Blackhawks."