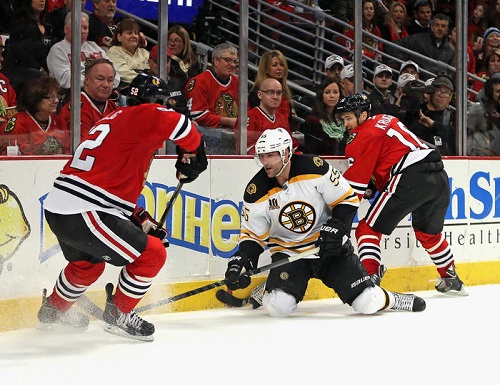 In a world where Joel Quenneville is very fond of switching his lines up when things aren't going the way he wants (the Quenneville Line Blender, anyone?), it's amazing to see that one line he's stuck to the most consistently is his fourth line of Brandon Bollig, Marcus Kruger, and Ben Smith. He's split them up a few times, moving Kruger up to the second line and having Shaw center the fourth, moving the wingers around here and there, but he always comes back to that line in the end. What's more amazing, though, is the way that Quenneville has been utilizing that line – almost exclusively in a defensive role.
Brandon Bollig is only starting around 18% of his shifts in the offensive zone, compared to nearly 61% percent last season. Smith and Kruger, at 21.1% and 23.3% respectively, aren't that far off. That's nearly 80% of shifts that Quenneville has them starting in the defensive zone – and they're not exactly being put out there against the other team's face-punchers, either. This usage chart from ExtraSkater shows that, believe it or not, Bollig, Kruger, and Smith are being used against tougher competition than notable guys like Shaw, Versteeg, and Bickell.
Although they're only starting roughly 20% of their shifts in the opponents offensive zone, each member of that line finishes just over 40% of their shifts there. Those are insane numbers for a fourth line, particularly given the type of competition they're being put out against. They're even managing to put up points, having combined for 45 in 51 games played this season, while averaging right around 10-11 minutes per game (more, of course, for Marcus Kruger, because he is relied on heavily in penalty kill situations). Some of those points have come from time on other lines, I'm sure, but the fact remains that this is not your stereotypical NHL fourth line.
The Bollig-Kruger-Smith line is almost being used as what you might think of as a typical third line – defensive forwards, an energy line, kind of a hard-hitting safety net. When you're being deployed like that, your job is to get the puck into the other team's zone and out of your own. These three are certainly up to the job. They're always banging around, working to win board battles to get possession of the puck and clear it out.
"We've been together two and a half months now, so understand each other in different situations," Smith said. "It's just having that comfort in playing with the same guys. It's a good situation for us and we like the challenge of being in certain situations against top lines or coming out right after power plays to get pace back into the game. We embrace it and it's been nice to have that role so far."
What stands out the most to me, I think, is that Quenneville trusts them to do that. Kruger, sure. He's proven himself over and over. But Ben Smith has been searching for his niche on the Blackhawks for quite some time now, and if you'd told me this time last season that Brandon Bollig would go all 51 games so far without being a healthy scratch, and would playing minutes against the kind of competition he faces every night, I probably would've laughed at you.
But they're doing it.
In the absence of his former defensively-minded forwards like Frolik and even Dave Bolland to an extent, it appears that Joel Quenneville has finally found a fourth line that he can trust.