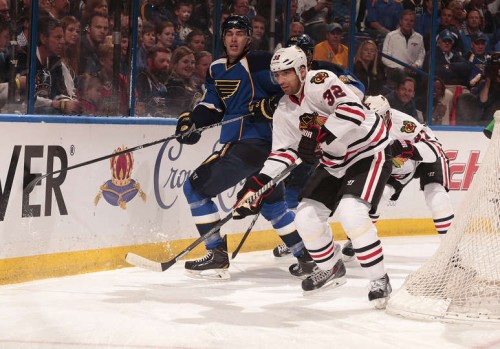 Illinois is strange. That silent 's' at the end of the state name, throwing speakers from just about anywhere but Illinois off-tilt, should be a big clue that this state varies from the traditional norm.
In the northern half of Illinois, Blackhawks fans swarm like agitated honey bees. The city itself is splashed with dashes of red and it's impossible to go an entire day without seeing a Blackhawk logo on practically anything. The southern half of the state, however, is as blue as Toronto. Bloomington, in the middle of the state, seems to be the division between Blackhawks and Blues fans in Illinois.
This means there are two major reactions happening in response to one of the most heated first rounds in Stanley Cup Playoffs recent memory. Downstate, cheers of victory, celebrations of conquests, and cries to return burning at the stake as a legitimate form of justice drown the newspaper headlines and Main Street gossip. While up north, frustration, anger, panic, and more frustration can be felt in the air and seen in the eyes without speaking a word.
But Blackhawks fans shouldn't be losing their faith just yet. For starters, it's still early. In a best of seven series, two games is, at best, the halfway mark. It certainly isn't the final nail in the coffin as St. Louis learned last year after taking a two game playoff lead and then dropping the next four, resulting in an early exit. There's no reason that can't happen again.
The next two games are back in Chicago, where the Blackhawks have had the upper hand over St. Louis. A change in venue may be a change in momentum.
During the first two games, the Blackhawks have played just-okay hockey. Certainly not their best, but they haven't been blown out either. And that decent-at-best play has been enough to hang with, take the lead on, and push the Blues into overtime where the outcome literally belongs to anyone on the ice.
Chicago's biggest breakdowns have come from their own hand. Miscommunications, being out of position, and over-eager physical play have given the Blues opportunities. Give the Blues credit, they've capitalized on those chances, but if Chicago tightens the ship and stops allowing those breaks, it may suffocate St. Louis.
Speaking of a lack of oxygen to the brain, Brent Seabrook and David Backes are becoming more popular lately. Again, the viewpoints on the hit depend on what part of the state you're standing in. The only truth is that the hit was questionable.
Backes didn't have the puck, not anymore. Seabrook's skates didn't leave the ice. Backes' head was up, facing forward, however just a second after looking over his shoulder. Seabrook's shoulder hit Backes' head and since Backes was crouched, leaning in, it may not have been the target of the hit. Or maybe it was. Seabrook should have made a smarter play since Chicago was shorthanded at the time. A big hit on an opposing captain can be a game changer, especially in the playoffs, so much so that it's worth being physical and aggressive. There was no penalty called on the ice during the play, though there was a call made later.
The arguments can go either way. What the debaters fail to realize is that those arguments don't matter. All that matters is what happens in Game 3. St. Louis can use this as a motivation to keep pushing forward, or Chicago can use the same play to refocus and take back the series. Chicago is the reigning Stanley Cup champs, who didn't make it into the playoffs again by accident. St. Louis has been red-hot all season, except the tail end of it, and have been named Cup favorites by professional predictors for months.
The bottom line, this is playoff hockey. This is what it's supposed to be.
Two overtime games mean that these two teams couldn't be more evenly matched. Fans in either camp that shout their team's glaring strengths and their opponent's obvious shortcomings don't know enough about the game to give credible commentary. This is high-octane playoff hockey and these are the emotions that are supposed to come with the game. Victories should feel like world-dominating achievements and losses should burn the lungs and ignite rematch desires.
If your heart hasn't stopped at some point in this series, you haven't been watching.
The best and worst part about what we've seen so far is that this series has the potential to go to Game 7; maybe even overtime of Game 7. Have ambulances standing by.
Love Reading About Hockey?

Subscribe to keep up-to-date with the latest and most interesting hockey news!
| | |
| --- | --- |
| | We hate spam just as much as you |