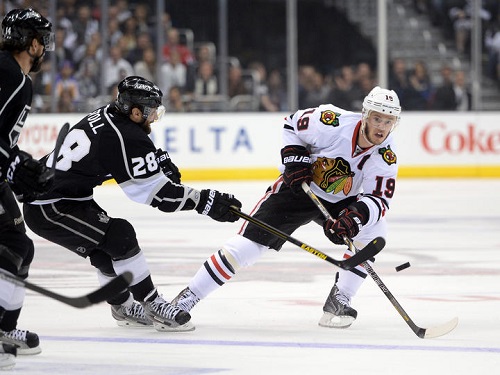 Things will be getting interesting in Los Angeles, that's for sure. The way the series between the Los Angeles Kings and the Chicago Blackhawks has been going, a lot of attention around the league, around the sports world in general, will be focused on the Western Conference Finals series.
Expect Game 4 between the Blackhawks and the Kings to be heated emotionally. The physical play between the two teams has been steadily increasing as the series has gone on, and Game 3 was no different.
Of course, the obvious example is the play between Chicago's Duncan Keith and Los Angeles' JeffCarter. Whether or not the one game suspension that Keith got for his high-sticking call on Carter was warranted is the topic worthy of an entire article in itself.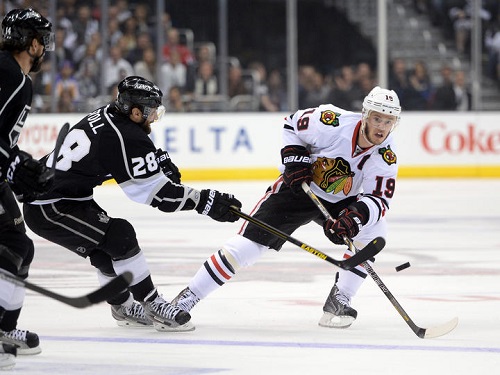 What's more important is the ripple-effect that will be caused due to the play. Carter's questionable slash and elbow that preceded Keith's stick, along with Keith losing his cool in a very un-Keith-like way, all point to a series where the referees will have their hands full as each minute ticks off the clock. Which may not be the best situation for all involved, as calls on the ice have been criticized by all teams so far this post-season.
But the heightened physical factors do point to teams that want very badly to win. Los Angles is looking to repeat their Cup performance, and don't want to lose their winning streak at home. Chicago has been impressive all season, and post-season, long and when they come to the rink eager to play, their depth is hard to match.
That will be the key going forward for Chicago. The depth is there. Scoring is coming from all lines, but not from the key names. Patrick Kane, Jonathan Toews and Marian Hossa have all been held relatively silent for their talents, thanks largely to the Kings and coach Darryl Sutter's experience. Sutter knows how to shut down goal-scorers and so far he's done that to Chicago.
Chicago needs to show up ready to play. A half-hearted effort won't beat Jonathan Quick or the rest of the Kings and Game 3 was evidence of that. If the Blackhawks come into the game as ready and eager as they did in the first two games of the series, they can solve the Quick Mystery.
Expect Chicago's big names to break out soon. So far they have been contained and isolated, the mark of good coaching strategy and smart play on the ice. But superstars are superstars for a reason. Sooner, hopefully rather than later, they will find a way to break out and earn a little skating room. When those pockets open up, Chicago will put more points on the board and make games much tougher for the Kings.