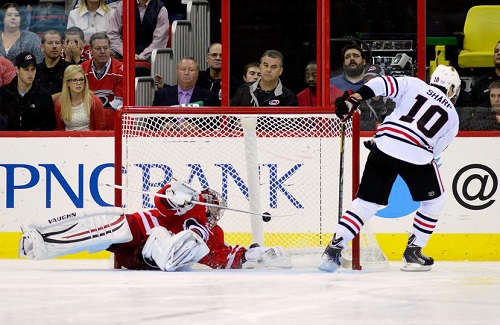 Last night was the 2500th victory in the Blackhawks' franchise history – and thanks to a bad habit they may be developing, they nearly didn't get it.
In their last five third periods, including last night's shootout win against the Carolina Hurricanes, the Blackhawks have been outscored 6-0. Last night was also their fifth straight one-goal game. For a team with the kind of offensive firepower that the Blackhawks have, that shouldn't be happening.
"That third goal, we were all looking to get that," said coach Joel Quenneville. "It might have made things a little bit more comfortable."
"It seems like we dominate each game in the first period," veteran winger Marian Hossa noted. "But in the second or third period we have to manage the game better. We have great starts, but we didn't have good finishes."
Patrick Sharp scored his 200th career goal last night, and also netted the shootout winner. He saved his puck and stick from the game for his new daughter Sadie, born Sunday evening. Sharp shared Hossa's sentiments. "I don't know if it's taking our foot off the gas," he said. "Teams are good these days and they want to make a push in the last part of the game."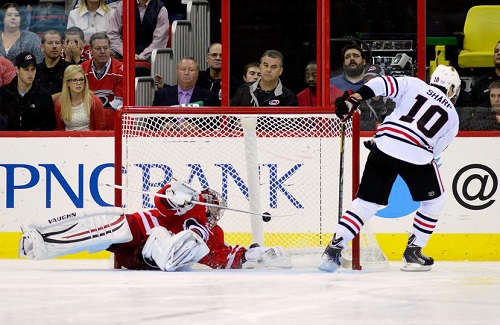 With those teams hungry to make that late push, the Blackhawks cannot continue to build a two-goal lead and then sit back, something Quenneville recognizes.
"Whether we can exploit it offensively, or do a better job defensively," Quenneville said, "we've got to find that [answer]."
Whatever that answer may be, here's hoping the Blackhawks find it before they face the St. Louis Blues Thursday night at home.