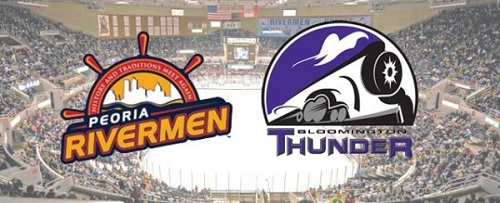 The owners of the Bloomington Thunder and the Peoria Rivermen have announced that a new partnership has been struck with the Chicago Blackhawks.
Illinois Pro Sports let the public in on their deal to join with the two central Illinois minor league clubs to help promote the sport of hockey throughout the state.
"This is an exciting day for our organizations," said David Holt, Thunder President. "The Blackhawks have accomplished incredible things on and off the ice and we are thrilled to partner with an outstanding organization."
He continued, "We are building and restoring excitement for professional hockey in central Illinois, and we want to follow the Blackhawks' example in partnering with them to do just that."
What the partnership consists of are two special "Chicago Blackhawks Nights" during the second half of the 2013-2014 season. These games will have special giveaways, promotions, and both the U.S Cellular Coliseum and the Carver Arena will have Blackhawks displays around the rink.
While a simple partnership among several levels of professional hockey may not seem like a major move, it will work out that way for all parties involved. The Blackhawks have a fantastic fan base that they pride themselves on and constantly work to build.
The annual Blackhawks Convention, a weekend dedicated to celebrating Blackhawks fans, sells out every year. Seasonal promotions are bit hits, and bringing former players back to serve as 'Ambassadors' all play into the business model. Other NHL franchises have looked to Chicago as a mold to follow when building their own fan-bases.
Now, that success has been connected with minor league hockey. Smaller venues, with fan-friendly, exciting, professional hockey at reasonable prices will now be tied with the success the Blackhawks have at the NHL level. The minor league clubs will benefit from the relationship.
The Blackhawks benefit from the expansion of their influence. The Thunder and Rivermen have had a heated rivalry since their conception. Both teams are close enough in proximity that it was easy for the clubs to develop friction that always brings fans into the arenas. Those fans will now see the Blackhawks' logo on their next game.
Hockey in Illinois is on the rise. Chicago hockey has always been a proud tradition, but now that pride is starting to spread throughout the state. This new partnership is just the latest step in that movement.
Credit goes to Peoria and Bloomington for seeing the opportunity to grow through Illinois and capitalize on Chicago's success. Even more credit goes to Chicago for realizing the expansive possibilities and extending the hand of partnership with younger, up and coming clubs who are hoping to strengthen their roots.
It's a win-win for everyone.