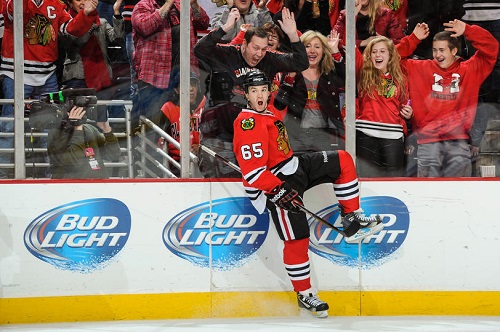 The Blackhawks announced today that they have signed forward Andrew Shaw to a two year contract extension, locking him in through the 2015-2016 season.
TSN's Bob McKenzie reported that Shaw's extension has an average annual value of $2 million, quite a step up from his current salary of $557,000 a year. It's a raise that has been well-earned. Over the past couple of seasons, Shaw has doggedly carved out a niche for himself on the Hawks' roster, something that did not escape GM Stan Bowman's notice.
"It's great to come to this agreement with Andrew and keep another important member of our team in Chicago," Bowman said today in a press release. "Andrew has proven his ability to play a prominent role on our team and we look forward to watching him grow as a player for the Blackhawks."
"He's a hardworking type of kid," Joel Quenneville said. "You see the way he works, and it's contagious."
That work ethic has made Shaw a steal for the Blackhawks. He was passed over in two NHL entry drafts before being taken by the Hawks in the fifth round in 2011. Since then, he has appeared in 103 career NHL games with the team and has 24 goals, 25 assists, and is a +11.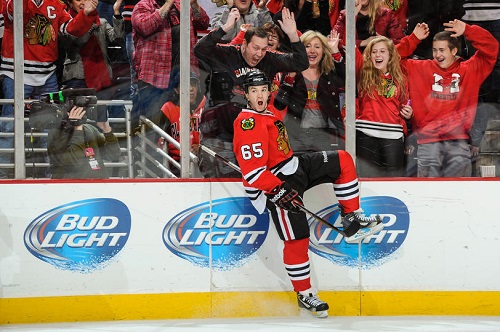 One of those goals came in triple overtime of the Stanley Cup Final. Few Blackhawks fans will forget Shaw's jubilant cry of "I love shin pads!" when he realized that the puck had indeed deflected off his shin pads and into the goal behind Boston netminder Tuukka Rask, sealing the game for the Blackhawks. Game 6 of the Stanley Cup Final held a similar iconic Shaw moment involving the forward taking a puck to the face and hitting the ice, only to return to the game sporting a cut high on his cheek that had to be re-closed more than once on the bench and later left unmistakable red smears on his teammates' jerseys during the on ice celebrations.
That's the kind of player that Shaw is. The kid that teammate Brandon Bollig has dubbed "the Mutt" plays bigger than he is, and harder than he should be able to, and it has served him well. He's not a player that anyone will be able to forget, teammate and opponent alike, and Shaw likes it that way.
"Just being passed over twice (in the draft), it always pushed me to prove everyone wrong," Shaw said. "I'm excited to be a Blackhawk."