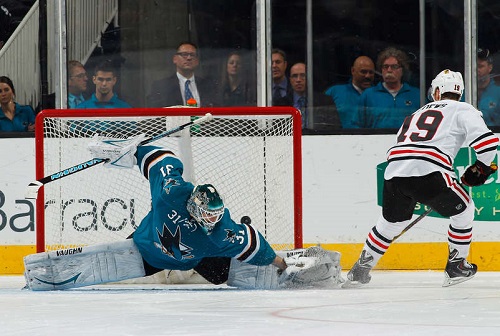 Is it fatigue? Given what we've seen of this team's conditioning, that seems unlikely. Is it focus? Not if Joel Quenneville has anything to say about it. Is it confidence? With this group, not a chance.
So why, then, does a team with so much talent and depth keep getting foiled by games that go past regulation time? The Blackhawks have lost 10 of their last 11 games that have gone to overtime or to a shootout, and they're 5-14 in those games overall this season. And they've got everyone wondering what the problem is.
"We've got to try to find a way. My not making a save in the shootout doesn't give you a chance to win," Crawford said following Saturday's shootout loss to the Sharks. "It's a tough loss again. We played well. They're a good team in this building, We definitely had a chance again to win tonight; we had a couple chances late to win the game. We've got to figure it out in the shootout."
Saturday night's game against the San Jose Sharks was not a bad one by anyone's definition. Both teams played a tight game, and both goaltenders weren't letting anything past them. Frankly, it was a surprise that the game went to overtime tied 1-1 rather than tied 0-0, given that neither team managed to find the back of the net until the third period. Players and coaches alike agreed that the game was one of those games that felt like playoff hockey in the middle of the regular season.
"That was a playoff game," coach Joel Quenneville said. "The building felt it. This building can get loud and noisy. We've talked about recently, the way overtime has gone, it's a little disappointing. We've been doing some good things 5-on-5 during the game, so, disappointing."
That game being "playoff hockey" can be looked at as a good thing for the Blackhawks, or it can be looked at as a bad thing. It's a good thing because in the playoffs, their lack of success in the shootout won't matter. It's a bad thing because their lack of success scoring in OT will.
"Corey made four or five game-savers for us," Versteeg said about Crawford's stellar performance against the Sharks Saturday night. "He kept us in it and gave us a chance to win. Obviously, we wanted to get him that extra goal."
Once the Blackhawks figure out their overtime scoring woes, they should be solidly back on track. In the meantime, the team and fans alike should be grateful that this is the worst thing people currently have to complain about.
The Blackhawks continue their California road swing this week, playing the offensively-challenged-of-late Los Angeles Kings Monday, and the Anaheim Ducks Wednesday, a team that took great pride in being a foil for the Hawks last year and who have been a steadily hot team this year.