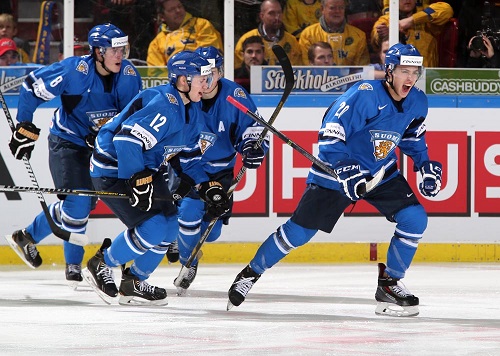 Hey Blackhawks fans, are you one of the large group still desperately searching for a long-term fix at second line center?
You can quit looking.
The Blackhawks' first-round draft pick from 2012, Teuvo Teravainen, is looking more than ready to make the jump to the NHL. He had a very good showing at training camp earlier in the fall, and although the plan was always for him to return to Jokerit and play his third year in the Finnish Elite League, many thought he looked ready this year.
He's done nothing this season to prove them wrong.
Teravainen left for the World Junior Championships with 17 points (3G, 14A) in 29 games with Jokerit, but it is what he did at the Championships that has blown everyone away. Captaining Finland to their first gold medal in 16 years, Teravainen came out of Finland's 7 games with 15 points (2G, 13A). Three of those points came on every goal Finland scored in their overtime gold medal win over Sweden. With those 15 points, Teravainen captured the tournament scoring title. He was also named to the WJC All-Star team by members of the media.
"Put it this way," Mark Lazerus, Blackhawks writer for the Chicago Sun-Times said on his twitter Sunday afternoon. "Teuvo Teravainen is the Blackhawks' second line center of the future. The near future. Opening day or not."
Playing center on the Blackhawks' second-line would put Teravainen on a line with Patrick Kane, and potentially Brandon Saad. Pair that with a top line of Sharp-Toews-Hossa, and the Blackhawks' top two lines just might be set for a while. Obviously Teravainen adjusting to the smaller North American ice is a concern, but he certainly didn't have any trouble with it back in the fall. He has the necessary experience of playing with and against men, rather than boys, and injuries on the Jokerit team in the fall had him playing first-line center for the club.
My feeling is that we're going to be seeing Teravainen in the NHL sooner than later, potentially even on opening day of the Blackhawks' 2014-2015 season. A lot can happen between now and then, of course, but GM Stan Bowman likes what he sees already from watching Teravainen at camp, and watching tape of his games with Jokerit.
"I think with Teuvo he's obviously got a lot of talent," Bowman said. "We're really excited what he brings to the table."