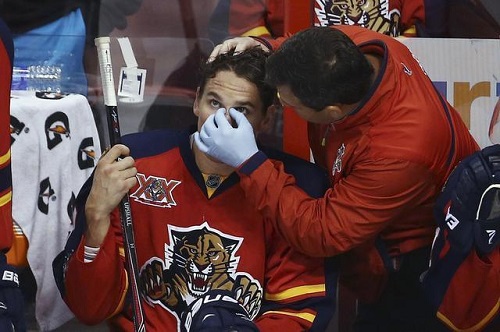 First off, I would like to go on record saying that Murphy's Law is an actual thing. Like, it happens. As much as we'd like to think not, it does. The glass could be half-empty or half-full, but at one point or another, somebody's gonna knock the whole damn thing over. And frankly, I'm not all that convinced that the water's previous state is going to matter much when it's being mopped up by a Sham-Wow.
Case in point-enter perennial guinea pig the Florida Panthers. Entering the Olympic break dropping five of their last six and populating the cellar of the National Hockey League, the Sunrise-based hockey club sent a league-low total of two (COUNT 'EM, TWO) participants to the Sochi games. Representing the Cats, veteran forward Tomas Kopecky and 18-year old wunderkind Aleksander Barkov joined the sporting ranks of Slovakia and Finland respectively, hoping to guide their national sides to global glory.
Viewing this as separate from the context of NHL benchmarks, the fact that a team possesses players of a quality high enough to be demeed worthy of representing a nation on the international stage stands as a feat of its own. The Chicago Blackhawks sent ten players to the Olympics? F*** that noise, WE'VE GOT A BARKOV.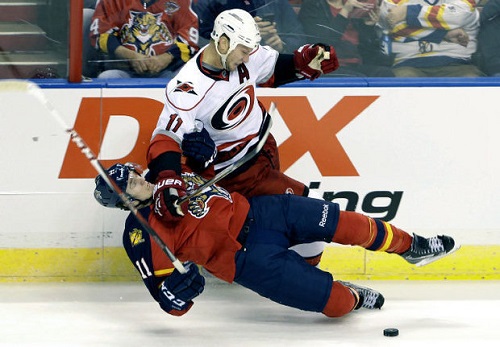 And then, Murphy happened. Sasha Barkov went down in Finland's second game of group play, injuring his knee during their 6-1 demolition of Norway. The diagnosis? A knee injury-a shockingly specific diagnosis in terms of hockey's medical lexicon-that could potentially sideline the phenom for the remainder of the season. Kopecky, rocked by a high hit rivaling a Tekken virtual headshot, was shelved with a potential concussion while playing against Slovenia. The end result? Two impact players populating the injured reserve.
BUT WAIT, THERE'S MORE.
The Olympics came and went, Finland straight murked the United States for the bronze medal, and following eventual Canadian triumph (Socialist bastards…) players rejoined their respective clubs, prepping themselves for the stretch run. For the Panthers, however, the two that went never truly came back (wow, that sounded kind of dark). Missing two top-six forwards, the Cats hosted the Washington Capitals last night; rediscovering his form, Alexander Ovechkin tacked three points off of a game-winning goal en route to a 5-4 victory. The Cats, in spite of notching a rare power-play goal and potting a four-spot against Washington starter Braden Holtby, pulled a typical Florida Panthers' move, falling behind early before flying-and eventually dying-in the stretch run of the contest.
However, for all of their comeback antics, the Cats prove to be an impotent squad. For a team in a purported rebuild, coach Peter Horachek's continual fielding of a line-up populated with ineffective veteran players contradicts General Manager Dale Tallon's motives; as noted by Todd Little of Litter Box Cats, head honcho Horachek's repeated scratching of Dylan Olsen-a young blueliner who, in the early goings of his tenure with the Panthers, has shown good chemistry with Erik Gudbranson-serves more to confuse than to clarify the team's stance going forward. Granted, I haven't been able to watch many games because of a little thing called college, but in my opinion, regularly fielding a growing prospect such as Olsen-who has played rather well when inserted into the line-up-can only serve to burgeon his development and perhaps grant a clarified picture of the future.
And it shouldn't stop at Olsen- there are young guns waiting in the wings at virtually every position, waiting to be afforded an opportunity at the major league level. Why not start now? What, with a recent spat of injuries further derailing a train bound to East Lottery-Pick Nowhere, what harm could come from handing a handful of eager, energetic prospects an NHL stay? Recent AHL call-up Drew Shore, on fire of late, scored said power-play goal against the Caps last night. The previously snake-bitten pivot has found his scoring touch of late; depositing five minor league goals in his last six AHL games and four through his last seven at the NHL level, the talented sophomore appears to be rounding into shape following a 31-game goalless streak. The two-way forward has six points through 18 NHL contests, a mere two less than Scott Gomez who, playing in ten more games than Shore, has only found the stat-sheet twice more than his young peer.
Vincent Trocheck sits sixth in overall rookie scoring at the minor league level with 40 points off of 15 goals through 52 games, leading the San Antonio Rampage in scoring. Rearguard Colby Robak remains tied in team scoring from defensemen with 18 points off of six goals; his plus-five rating stands in stark contrast to that of former first-rounder Ryan Whitney-his 'rival' per se in the defensive scoring race-with the waived veteran possessing a minus-ten; note that Robak has played in 16 more games. Speedy left-wing Quinton Howden, another player with a positive plus-minus on a team with a minus-nine goal differential, could serve as a functional bottom-six forward given the big squad's current outlook; the 2010 25th overall-selection merits more consideration than Krys Barch. And personally, I don't think that playing the "resident belligerent" card renders any merit, not with Gudbranson posting more PIMs than the tough-guy.
Tomas Fleischmann just scored his first goal since December 17th; he's on pace to score 32 points this year. Shawn Matthias-recent recipient of a two-year, $3.5 million dollar deal following a career year-has gone AWOL, less than halving his goal output from last year's lockout-shortened campaign through nine more games played. The team as a whole has seemed to have lost its jump; even assistant captain Brian Campbell, the swift puck-moving defenseman, looks somnambulant at times, lethargically gliding through the neutral zone.
I understand that my opinion may not sit well with some-theres a 99% chance that I'm still the only Panthers fan in the continental United States thinking Jacob Markstrom should be populating Scott Clemmensen's roster spot. But at this point in a lost campaign, what more damage can come from doling out extended looks to up-and-comers that are almost guaranteed to play their collective tail off? Experience doesn't mean much when effort isn't there; "having been there" doesn't win games. Playing at half-speed doesn't spell success, it spells WTF. Why rely on the law of averages, attempting to balance out dismal jump throughout forty minutes with hustle through one frame? If the effort ain't there, the skill won't show when needed.
That being said, here's my highly unqualified prescription-rotate some young guns in and out. Scratch some vets; shift some players around. Make some call-ups. Instill a culture of work ethic, no matter how lopsided the score. Get a team-wide increase in effort, the same one that emerged ever-so fleetingly when Horachek and friends first took the reigns of this hell-bound sleigh. If you can't win games, you might as well go down fighting. What's the worst that can happen? We lose every game from here on out and guarantee a top-two pick?
Oh wait, you're telling me that no one's gonna read this? TRADE EVERYONE OVER 27 FOR DRAFT PICKS AND SELL THE TEAM TO BELARUS.