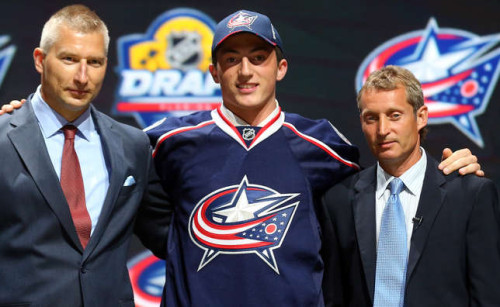 In order for any NHL team to maintain success, they have to be able to draft well. In recent seasons the Columbus Blue Jackets have been doing just that. The next step is developing these kids from promising youngsters, into players who can contribute at the NHL level. This is never an easy task, but the Blue Jackets have developed a nice crop of prospects. Let's take a closer look at the top 5.
Kerby Rychel (LW)
Kerby gets ranked as 1 (a) on the prospect list for the Blue Jackets. He's sharing the title as top prospect with defenceman Zach Werenski as both players are crucial to the future of the Blue Jackets.  Rychel was a prolific scorer in his 4 year OHL career scoring 122 goals, 150 assists for 272 points in just 256 games, eclipsing the 40 goal marker twice. This led him to be drafted 19th overall by the Blue Jackets in the 2013 entry draft. Kerby played most of last season with the Springfield Falcons of the AHL where he put up 33 points in 55 games – not bad for your first year of professional hockey. Rychel also got his first crack at the NHL playing in 5 games and contributing 3 assists.
Rychel may not have been drafted as high as Werenski but his natural scoring ability will have him becoming a consistent 20-30 goal scorer in the league for years to come. He's a can't miss prospect for the Blue Jackets. Look for him to get a real chance to make an impression in training camp this season.
Zach Werenski (D)
Top prospect 1 (b) is Zach Werenski, this past summers 8th overall draft pick out of the University of Michigan (Go Blue!). Werenski led all Michigan blue liners with 25 points in 35, he was also the second highest scoring freshman defenceman. Werenski's solid first season in the NCAA in addition to his exciting career for the USA U-17 team led to him being a premiere prospect for 2015. Learning from Michigan head coach, Red Berenson,  has given Zach the opportunity to turn himself into a solid two way defenceman that can be a cornerstone for this Blue Jackets squad for years to come.
Sonny Milano (C)
Check out the hands on this guy. YouTube sensation Sonny Milano was drafted 16th overall by the Blue Jackets in the 2014 NHL Entry Draft. Those slick hands of his definitely played a big role in his selection. Sonny played for the US National development team, one season in the OHL and finished last season playing for the Blue Jackets farm team in Springfield, bringing a diverse experience set to his professional resume. He also represented the USA in the 2015 World Junior tournament and was able to put up 4 points in 5 games. Not only does Sonny possess one of the better hockey names out there, he also has some of the best hair in the game. Sonny will likely become a solid contributor and secondary point scorer for the Blue Jackets.
Oliver Bjorkstand (RW)
Oliver Bjorkstand is a point scoring machine. In his three seasons playing for the Western Hockey League's Portland Winterhawks, Bjorkstand tallied 144 goals and 146 assists for 290 in just 193 games played. That's point per game pace of 1.5 over his three year junior career. Bjorkstand finished 3rd in league scoring in 2013-2014 and led the league in points in 2014-2015. A very important detail of this is Bjorkstand has accomplished this all with the letter "A" on his jersey, serving as alternate captain in his previous two seasons, proving he's more than just a scorer, but can be counted on to lead. Bjorkstand has certainly done all he can do to prove the Blue Jackets were right to draft him in the 3rd round of the 2013 NHL Entry Draft.
Anton Forsberg (G)
In the 2011 NHL Entry Draft, there were 187 players draft. Number 188 was goaltender Anton Forsberg. He has played himself into being the Blue Jackets 5th best prospect playing in Sweden before making the transition to North American hockey. Last season was Forsberg's first full season in the AHL. He split the net for the Springfield Falcons with Scott Munroe and Oskar Dansk, but played the most of the trio, playing 30 games. More impressively, was his 20 wins, 2.0 GAA, and 0.927 save percentage in those 30 games played.  With the injury bug in full form in Columbus, Forsberg was able to play 5 games for the Blue Jackets where his numbers illustrated his development will benefit from more time in the AHL. At just 22 years old, Forsberg has time to master his position and perhaps take over for Curtis McElhinney when his contract expires in two years.
Conclusion
Overall, this prospect pool is pretty solid, and earns the Blue Jackets a rating of B+ for their top 5 prospects from this writer. Lots of work still to do with these players, however, the Blue Jackets have shown a lot of promise with these 5 players. What's most impressive is the diversity of positions in their top 5. They have one each of C, LW, RW, D, and goalie. Having solid prospects across every position is critical. Just as exciting, they aren't exclusively first round draft picks, proving the Blue Jackets can scout and develop players thanks to the strong play of Oliver Bjorkstand (3rd round pick) and Anton Forsberg (7th round pick). Keep an eye on all of these kids during training camp – they should be very fun to watch!
Love Reading About Hockey?

Subscribe to keep up-to-date with the latest and most interesting hockey news!
| | |
| --- | --- |
| | We hate spam just as much as you |