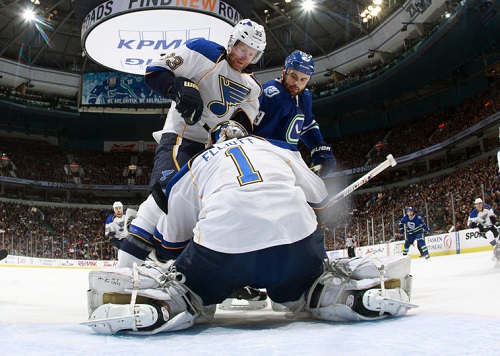 In figurative language, to feel 'blue' is to be sad. St. Louis never got the memo. Those Blues have nothing to be 'blue' about.
Currently sitting near the top spot in the Central Division, St. Louis has bested heavyweight contenders. The defending Stanley Cup Champions, Chicago Blackhawks, have yet to win a game against St. Louis this season.
It's no secret that the Central Division is arguably the toughest in the NHL and St. Louis is making themselves known. But they have to maintain that momentum as they are nipping at the heels of the top in the conference. The Blues seem to feed off that pressure. The Blues have had strong play for the last few seasons, but this year feels like the team is finally putting all the pieces together and the performance on the ice is reflecting that.
St. Louis's strong defensive style is able to slow down and contain quicker, play-making teams, like Chicago, and suffocates the play. On the other end of the ice, offensive talent that Blues fans have been waiting to see click finally are.
The Blues are feeling confident, even through injuries, and their play is showing that by stringing together wins. Strong playoff potential and longevity is being hinted at like blood in the water, and the Blues know it.
Now Blues fans can extend their bragging rights to international levels as St. Louis will send ten of their roster regulars to Sochi to compete in the Olympics. St. Louis, as well as Chicago and the Detroit Red Wings who will also send ten players each, will now face a possible dilemma to go along with the bragging.
There is a chance that the extra pressure of the Olympic Games will exhaust the players for their return to NHL ice. Or, in an even worse scenario, the games present the possibility of injuries. While the added schedule presents added risk, most players will agree that playing under country colors is worth it.