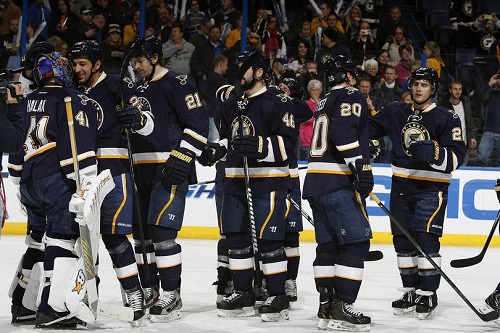 The mantra running throughout the St. Louis area lately is "long live the note." The phrase is in reference to the Blues, and fans have reason to believe in 'the note' again.
As a jump start to a hectic season, the Blues have taken home wins in three of the last four games. They started out the season to a packed Scottrade Center and didn't disappoint. The young St. Louis club hung a commanding loss to Central Division rivals, the Detroit Red Wings, in a 6-0 win. Jaroslav Halak registered his first shutout on the season in his first game of the season and stopped all 14 shots the Red Wings threw at him.
But that was expected. It's no surprise to anyone that St. Louis goaltending would be stellar with Halak and Brian Elliot in net. What people were waiting in anticipation to see was the arrival of the new Blue, Vladimir Tarasenko. He turned heads tallying up two goals in his first game alone. He would add another goal, giving him three in two games, just two nights later when the Blues would top the Nashville Predators 4-3 after going into a shootout. With the game going into extra time, that slight slow of momentum would carry over to the next night when the Blues would take their first loss of the season, dropping a close game to the Chicago Blackhawks by a score of 3-2. It would be the first game of the season that Tarasenko didn't register a point.
Two nights later the Blues would again face the Predators and again, Tarasenko would make his way to the score-sheet. He would add another goal off just four shots in the game and Halak would snag another shutout win as the Blues topped the Predators 3-0.
Everyone knew St. Louis' netminders would rise to the pressure. Halak has a goals against average of 1.18 and Elliott's is at 1.98. Both have a save percentage over .92 and Halak's two shut-outs in three games can't be referenced too many times. The goal-tenders are giving their offense chances to win games.
And the offense is responding. Tarasenko leads his team with six points in four games, including four goals. He has a 25.0 shooting percentage which means one in every four of his shots on net is finding the back of the twine. Let's take a moment to think about that for a second.
Right behind him, Blues staple T.J. Oshie has five points, as does Kevin Shattenkirk. Andy McDonald, Alexander Steen and Alex Pietrangelo all have four points in as many games. As of right now the Blues have six players who are all on track to average a point or more a game. Two defensemen and four wingers. Just to be clear, that's an entire line of guys that are averaging at least a point a game.
Each.
Yes, the Blues offense has arrived and is skating full-force into the scattered season. Their goaltending is right on pace to where it needs to be, maybe even better than expected, serving as a reminder of why the Blues were Central Division Champs last year. What everyone is wondering is how long this surge can last. The Blackhawks have been red-hot, literally unbeatable, so far this season. However, the Blues were within striking distance of Chicago during their entire game and even in the final seconds, nothing was for certain.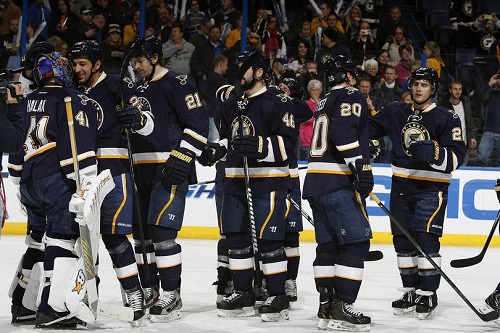 Two new notes, wearing the note, are defensemen Ian Cole and Wade Redden. Both men were recalled from the minor league system and should fit in on St. Louis' blue-line.
Cole was brought up from American Hockey League affiliate the Peoria Rivermen, in exchange for Jeff Woywitka. Cole has dressed for St. Louis' already this season and has a lone assist in three games. Cole is expected to learn from the veteran defensemen around him, take notes and contribute when needed.
Doug Armstrong, St. Louis' General Manager, most likely had other plans in mind when he brought Redden to the Blues. Redden was just recently activated to the roster and will wear number six in the upcoming lineups. A lot of fans question the move, but Redden brings a veteran presence, physical intimidation and some offensive help to a young team that could use some physical play. If Redden does what his coaches believe he is capable of, he will fit in well in St. Louis and be a key asset when the calendar gets closer to the post-season.