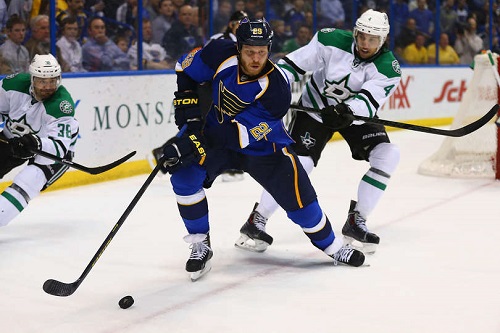 Despite their overtime loss last night, the St. Louis Blues still have plenty to celebrate; and the confidence to move forward.
Alex Pietrangelo scored his first goal since January 10th and Roman Polak scored his first goal in 37 games. This was his fourth for the season and a personal best. Ryan Miller and Brian Elliott both made several incredible saves in the last two games.
The Blues continue to lead the NHL with 95 points, three higher than the East Conference leader, the Pittsburgh Penguins. St. Louis took the lead last Sunday, jumping ahead of the Anaheim Ducks, beating Minnesota in a shootout for a 3-2 victory.
Goaltender Brian Elliott was the MVP of the game with a flashy save, derailing a 4 on 3 Wild Power Play and lastly, denying both attempts in the shootout. Elliott had 17 stops overall, bumping his record to 16-5-2, with a 2.07 goals-against percentage and a .916 save percentage. As a goaltender, Elliott is a solid bet. When the Blues call on him to play, he shows up ready to win and consistently plays well.
Since the Olympic Games, only four teams in the NHL have a better record than St. Louis–Los Angeles, Boston, Anaheim and San Jose.
The Blues also lead the league in road points (45) and a winning percentage of .682. That being said, the Blues do not have much wiggle room at the top.
Their five game winning streak was cut short by the Dallas Stars just last night. And further, these last few games were won by only one goal. Dallas used speed to their advantage and took control of a few breakaways to win the game. The Blues need to be quicker on the draw to get the first goal of the game. Records show that the first team to score is the likely winner. The Blues prove to be a strong enough team to turn a losing game, but as a whole, a little work will go a long way for them.
Coach Ken Hitchcock said after the game that hopefully, "the last three games should be a wake-up call. [We've] gotta get those boys to invest in the play right away."
Captain David Backes had similar thoughts. "We didn't get to that game a ton. The result is a loss on the record, but we've got to take some learning lessons from this one as well and play a good team on Thursday."
This was also the first loss for St. Louis since Ryan Miller and Steve Ott joined the team from Buffalo.
Miller made 27 saves, more than a few being rather spectacular. Both players have done well acclimating to their new surroundings. Miller's quiet confidence in goal has a made an impression on his teammates.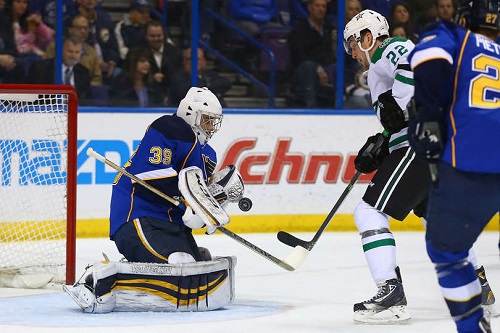 Defenseman Ian Cole said of Ryan, "He happens to make unbelievable saves, but he makes saves he's supposed to make too. He's obviously very calm, very confident in the net and that's something that really helps us out for sure."
"It'll only get better as the chemistry grows," Cole said. "It'll help him out too."
If the players remain as confident as their loyal Blues fans are about their team, a playoff run is sure to come.
The St. Louis Blues play the Edmonton Oilers on Thursday at 7 PM Central Time.