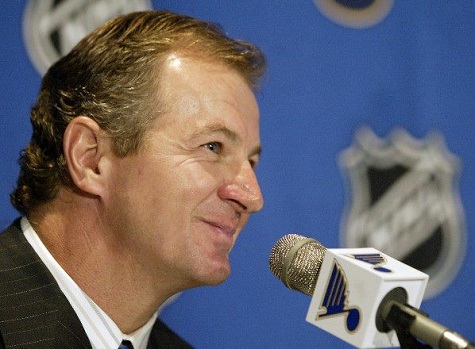 St. Louis brought in Ken Hitchcock halfway through last season to help bolster the team's production and hopefully put them in contention with a strong Central Division. It worked, as the Blues finished at the top of their division and an impressive playoff appearance.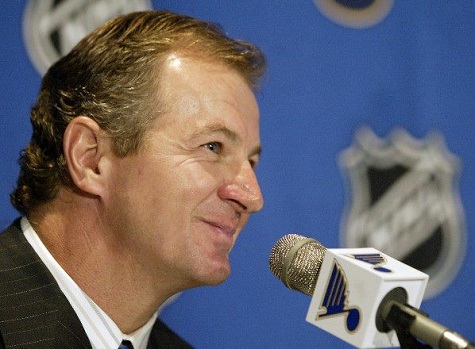 Now the Blues are hoping more management changes will have a similar effect.
Changes in St. Louis' Hockey Operations Department were announced this week by Executive Vice President and General Manager Doug Armstrong.
Perhaps the change that Blues fans will respond to strongest would be the promotion of former Blue Al MacInnis to Senior Advisor to the General Manager.
MacInnis will be working alongside Armstrong which will help bring confidence to the Blues management from the St. Louis faithful.
MacInnis will be moving from his previous position of Vice-President of Hockey Operations, which he held since November 2006. Fans remember him most for his on-ice career which totaled 23 seasons in the NHL between the Blues and the Calgary Flames. Though he only spent a decade in St. Louis, he used that time wisely to rack up 452 points, including 127 goals and 325 assists on the blue line. All in 613 games on hockey's biggest stage.
He is ranked fourth on the Blues' all-time assists list with 325, sixth on their points list with 452, seventh on their games played list with 613, and perhaps most impressively he finished third on their shots on goal list with a staggering 2,266 shots on net.
In April 2006 the organization honored MacInnis' achievements by retiring his number 2 sweater in the rafters of the Scottrade Center.
Taking MacInnis' place as Vice-President of Hockey Operations will be Dave Taylor, who joined St. Louis in July 2010. Previously, Taylor stood as the Director of Player Personnel, the same position he held with the Dallas Stars for three seasons from 2007-2010. Before that, Taylor was the General Manager of the Los Angeles Kings for nine seasons from 1997-2006. While in L.A., Taylor helped draft a few NHL names such as Dustin Brown, Anze Kopitar and Conn Smythe winner Jonathan Quick. Though, Taylor is no stranger to the Kings as he spent his entire on-ice career in Los Angeles. There he played on the "Triple Crown Line" with Marcel Dionne and Charlie Simmer, and made a name for himself as the all-time games played leader for L.A. with 1,111 games. He was able to rack up 431 goals and 638 assists for a total 1,069 points. Taylor's number 18 jersey was retired by the Kings in April 1995.
Kevin McDonald will still remain the Assistant General Manager for the Blues and the General Manager of their minor league affiliate the Peoria Rivermen. McDonald teamed up with the Blues just before the 2001-2002 season as a Professional Scout, and quickly moved to the GM position for the Rivermen, where he served since 2005. In 2009, he added Assistant GM for the Blues to his resume. Last year marked McDonald's 24th season working in the NHL, as he started his career with the New York Rangers back in 1988, holding various titles including, Director of Communications, Assistant to the General Manager, and Professional Scout.
Taking over as Director of Pro Scouting for St. Louis is Rob DiMaio, who first joined the Blues as a scout back in 2008 after playing in the NHL for 17 seasons.
DiMaio played in 894 games in total with the New York Islanders, Tampa Bay Lightening, Philadelphia Flyers, Boston Bruins, New York Rangers, Carolina Hurricanes and Dallas Stars. DiMaio will work closely with Armstrong and be in charge of all aspects of professional scouting for the Blues. Armstrong also recently announced that Scott Allen will be the Assistant Coach for the Rivermen, alongside Dave Allison who was hired in June. Allen will be coming to the Rivermen after spending the past three years with the New York Islanders as their Assistant Coach. The Islanders would be Allen's NHL stint, as he spent seven years before joining New York in the American Hockey League as either a head or assistant coach.
Allen spent time coaching in the East Coach Hockey League in the 90's, taking the Johnstown Chiefs to three straight Kelly Cup Playoff appearances and reaching the American Conference Championship twice.Allen went on to coach the San Antonio Rampage, Lowell Lock Monsters, Ak-Sar-Ben Knights and the Quad City Flames. Before coaching, Allen spent ten years playing professional hockey, though never in the NHL.