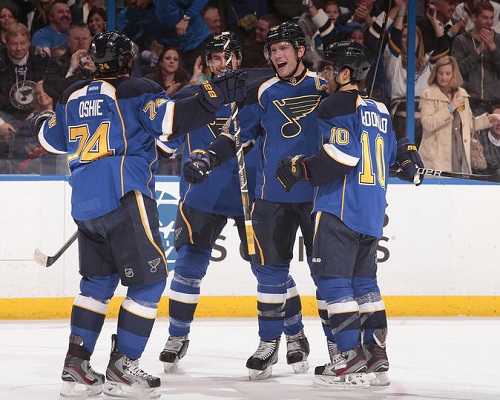 Blues fans are starting to get frustrated, and with good reason. Although St. Louis is right in the middle of the Central Division standings, their play as of late leaves much to be hoped for.
At the end of January, the Blues were able to steal wins from the Dallas Stars (4-3), Minnesota Wild (5-4 OT) and the Columbus Blue Jackets (4-1). The Blues were looking strong and maintaining a momentum they had built up since the beginning of the season.
Then, it seemed, like the hammer came down. St. Louis struggled with the Detroit Red Wings twice and got pounded by the Nashville Predators (6-1).
Since January 26, the Blues have been outscored 24-18. That may not sound too bad to some, but let's take a closer look. St. Louis' goal production has slowly decreased as the schedule moves on. The Blues scored five goals against Minnesota, four against Columbus, three against Detroit on February 1, and only a goal each against Nashville and Detroit again. It's hard to win hockey games when you're only scoring one goal a game.
On the opposite end of the trend, St. Louis' opponents have been slowly ratcheting up the goal production. Dallas scored three goals on the Blues on Jan. 26, and the next night Minnesota scored four. St. Louis held Columbus to only one goal, but Detroit came back the next night to score five. A few nights later, Nashville hung six goals on St. Louis, and Detroit came back again with five more.
While St. Louis is scoring fewer and fewer goals, their opponents seem to be scoring more and more.
One big cause for the lopsided scoreboard could be the goaltending shift. Jaroslav Halak ended up on the injured reserve list, as Jake Allen got promoted from the American Hockey League's Peoria Rivermen. While this is a big opportunity for Allen, coach Ken Hitchcock can't feel good about his number one goaltender being injured. Still, the Blues have Brian Elliot in net and he has been able to prove himself in the past. While Halak's injury isn't a reason to panic, it certainly doesn't help matters.
In another case of something being nice but not really making a difference, David Backes' hit to the head penalty has been recinded. Backes delivered a hit that to all of us at home with the convenience of instant replay looked to be a clean body check in his game against Detroit. The officials on the ice saw something different, gave Backes the penalty, and Detroit's Pavel Datsyuk was able to score the game-winning goal. Blues fans were in an uproar, and rightfully so. The next day the NHL saw what the fans saw and recinded the penalty, but the damage had already been done.
St. Louis needs to put that ugly event behind them and look to more positive facts. Rookie Vladamir Tarasenko is still on a warpath with five goals and five assists totaling ten points in ten games. He even took home the NHL's Rookie of the Month honors for January. He is one of three players, Kevin Shattenkirk and Alex Pietrangelo being the other two, to have ten points in ten games for the Blues.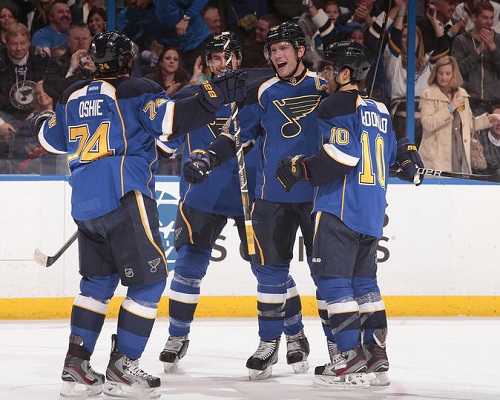 Wade Redden has also fit in nicely. Although he hasn't logged any assists yet, despite my predictions, he has buried two goals in six games with the Blues. This gives him a shooting percentage of 22 percent. For you stats-hounds, that's higher than Backes, Tarasenko, David Perron, T.J. Oshie and Alexander Steen. Redden also celebrated his 1,000th NHL game on Feb. 7, making him only the 11th Blues player to reach the milestone.
But to sum matters up, St. Louis' offense needs to produce more goals. They are working hard and battling against teams that are arguably the toughest in the league. But the Blues belong in that company. They have the potential to make a Cup run and need to start scoring to prove it. Injuries will heal and bad calls will be forgotten, but the puck has to end up in the back of the net.