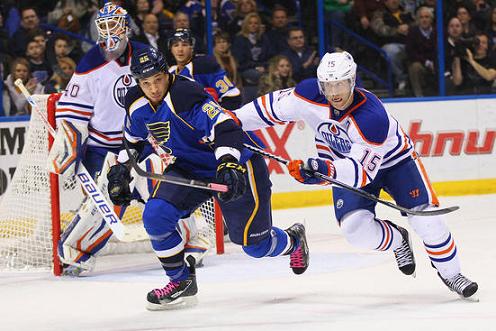 In their last five games, the St. Louis Blues have won three and lost two. Those "not bad" results are similar to how the team's overall performance can be looked at as of late.
The Blues earned some points in the tough Western Conference by taking a 4-3 win over the Vancouver Canucks and a 2-1 win over the San Jose Sharks. The Blues couldn't string a third win together and took a tough 1-0 loss to the Colorado Avalanche. The Columbus Blue Jackets gave St. Louis a game, but the Blues were able to take two points before dropping a tough 3-0 loss to the steam-rolling Chicago Blackhawks.
The game-winning goal for Chicago came just 12 seconds into the game. Chicago won the opening face-off and St. Louis looked like they were completely off-guard as the Blackhawks made a few quick tape-to-tape passes before putting it in the net.
David Backes said of getting behind Chicago so early, "To give up a goal 12 seconds in is totally unacceptable. Especially to a red-hot team."
Head Coach Ken Hitchcock supported Backes by saying that his team need to "play a full 60 minutes."
That seems to be the biggest chink in the Blues' armor right now. They have a talented team with winning coaching. But the intensity they bring early in games, as St. Louis' first periods are typically strong, seems to dwindle off later in the game. Even when St. Louis has a strong first and third period, they seem to drop the ball more in the second, as was the case with Chicago. St. Louis let in an early and unexpected goal, but they out-played Chicago in the first period. That aggressiveness weakened as the game went on.
The next night St. Louis made a better attempt at holding that intensity all game and it worked. The Blues beat the Edmonton Oilers at home by a score of 4-2, coming from behind to win. With what the Blues struggled with against Chicago, they did right against Edmonton. The physical play was still there — that didn't change much — but it was there all game, through all three periods. The Blues never took their foot off the gas pedal, even when they were behind.
One of the biggest positives for the Blues recently, however, is the rejoining of Jaroslav Halak to the lineup. Halak leads the St. Louis goaltending with a .904 save percentage and has the team's only two shutouts on the season. Behind Halak is Brian Elliott with a .849 save percentage, which isn't as strong as the .895 save percentage of Jake Allen, who was brought up to the NHL while Halak was recovering from injury. But Halak is back, Allen is back down to St. Louis' minor league affiliate the Peoria Rivermen, and Elliott remains as the Blues' number two netminder.
As far as the offense goes, Patrick Berglund leads the team in goals with 9, behind him is Stewart with 7 and David Perron with 6. Kevin Shattenkirk leads the team in assists with 14, with Alexander Steen and Backes behind him with 12 and ten respectively. Steen also leads the team in points with 16, while Shattenkirk has 15 and Chris Stewart has 13.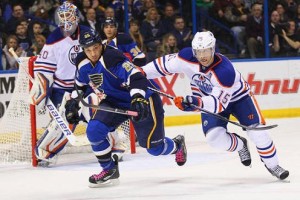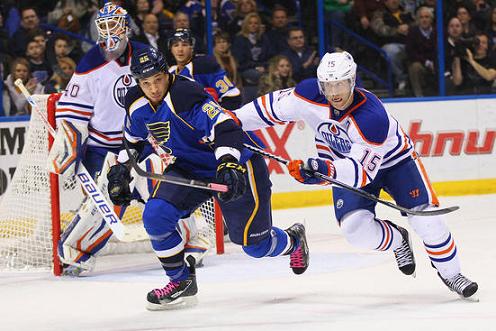 Again, not bad. However the story gets worse with Steen, who is day-to-day with an upper body injury he sustained during a practice drill. That same practice saw Andy McDonald go on injured reserve with a knee injury. It's tough for the Blues to find a scoring rhythm when their points leader is injured; however Hitchcock said both injuries are "short term injuries."
Another tough loss to the IR list for St. Louis is young superstar Vladimir Tarasenko. Tarasenko took a brutal hit during St. Louis's game against Colorado. Hitchcock said after the game that Tarasenko had severe facial lacerations and was suffering from a headache. Tarasenko saw the hospital after the game but traveled back to St. Louis with the team.
As a result of the key injuries, some Rivermen were called up to ease the pain. Adam Cracknell was brought up along with Andrew Murray and Chris Porter. So far the new Blues seem to be fitting in just fine, but, as expected, they aren't at the level of their counter-parts.
On the opposite side of the newer, younger players, stands Barret Jackman. Jackman hit a franchise milestone during the Blues' game against Columbus, as he became the St. Louis Blues defenseman with the most games played. In his 616th game, Jackman marked his place in Blues history. As far as his place in all-time games played by a Blue, Jackman is fifth behind Bernie Federko (927), Brian Sutter (779), Brett Hull (744) and Gary Unger (662).
Yes, St. Louis is dealing with some injuries that they would be better off not having. But they have a solid roster that has proven it can perform when it's firing on all cylinders. That's the key though. The Blues have stepped up their physical game and often out hit their opponents and force turnovers, but that can't happen in only one or two periods. That has to be a threat for opponents all game long. Look for injuries to heal, and Hitchcock to encourage his players to maintain that intensity they show early.