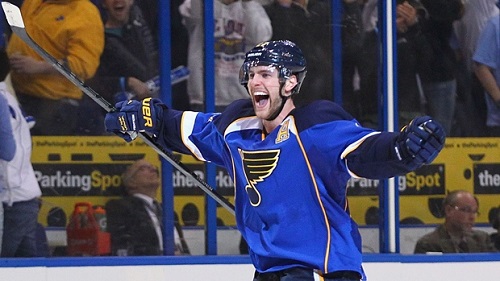 It's not yet time for the playoffs, though meaningful hockey is soon upon us, but that doesn't mean bold predictions have to wait until then.
It shouldn't come as any surprise to hear the St. Louis Blues mentioned as a favourite – given their position in the standings. But the big question is whether or not the team can make it to the second round – let alone the Stanley Cup final. The other question is if the President's Trophy will end up in Missouri, and, if it does, whether or not the Blues will be able to shake the modern Trophy curse.
Should St. Louis come away with some pre-playoff hardware, here are five reasons why they have a great shot of hoisting the Stanley Cup:
1. Depth
The Blues are a great team – that much people already know. But they've been scary good this season. They are one of only two teams to have seven players with 40+ points (Boston is the other) which has made them so successful. Included in that list of players for the Blues are two defencemen, compared to zero for the Bruins – making the accomplishment even more impressive. Much of the success for most players has been thanks to some rebound years and uncharacteristically good seasons. For Ken Hitchcock, having so many productive lines that you're not sure which one to play more is a great problem to have.
2. Physicality/Grit
Watch even one game and you'll see exactly what the subheading suggests. Lots of hitting, lots of battles and lots of tenacity: the motto of the Blues. This is especially helpful in the playoffs when, if you can constantly wear a team down over the course of 4-7 games, your chances of winning are substantially better. And St. Louis doesn't just rest on their team-oriented physical style: David Backes is third in the league in hits and Steve Ott is just outside the top five, sitting in the sixth spot. It'll be tough for the opposition to shoot when they can't keep the puck for very long.
3. Goaltending
Playoff hockey means more physical hockey, which means tighter, more low scoring games, which means keeping the puck out of the net becomes all the more important. Cue Ryan Miller, the former Buffalo Sabres goaltender with four playoffs under his belt, who can give the edge required to be the victor in a close-scoring series. Aside from playoffs, Miller has been to two Olympics (granted he didn't play in Sochi), so he has pressure dealing with experience.
4. Experience
The Blues have made the playoffs the last two seasons and have met the Los Angeles Kings (and been eliminated) each time. Suffice to say if another Kings-Blues showdown occurs the boys from the mid-west should have a better idea of what to do to win. But more than team experience, each individual player's experience is almost unmatched. Of course there's Miller's playoff pedigree, but much of this roster has been to the playoffs in recent years (either with the Blues or other teams).
5. Hunger
Not the food variety, but the hunger for success. This is a team that, in its current form, sent 10 players to Sochi, only to have two return with gold medals. Granted, there were six countries represented by St. Louis, but that's a lot of disappointment. Aside from the Olympics no player has won a cup, either. That's a scary thought for opponents: a roster full of players with disappointments – both distant past and recent past – that they will be looking to avenge.
Love Reading About Hockey?

Subscribe to keep up-to-date with the latest and most interesting hockey news!
| | |
| --- | --- |
| | We hate spam just as much as you |