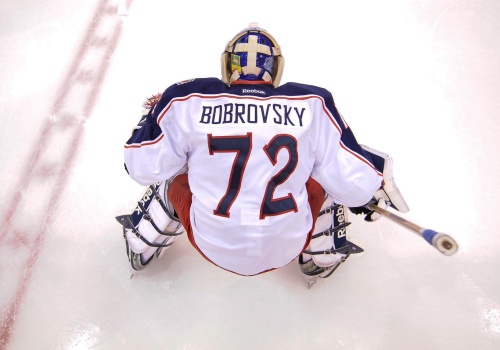 Things are about as bad as can be for the Columbus Blue Jackets right now.
The team is mired in a nine-game losing streak and half of their team – literally – is injured. But it appears that the #1 Cop on the Force could be back in action as soon as the weekend.
According to the voice of the Blue Jackets, Jeff Rimer, Sergei Bobrovsky was taking shots in practice on Wednesday:
Good sign. Goalie Bob taking shots after practice before team heads to DC. #gettingabitcloser#heismissedpic.twitter.com/57rTmNK6QF

— Jeff Rimer (@jrimercbj) November 10, 2014
It won't cure all that ails the Blue Jackets, but it never hurts to get a former Vezina Trophy winner back in the nets when your other options are a journeyman and a youngster who has barely any AHL time, let alone NHL time.
There's double good news as Matt Calvert could also return to the lineup on Friday against the Philadelphia Flyers:
#CBJ coach Todd Richards said Bobrovsky and Calvert won't play tomorrow, but sounds like Friday vs. the #Flyers is possible for both.

— Rob Mixer (@RobMixer) November 10, 2014
Their returns will be more than welcome. Calvert's addition will only help the depleted Blue Jackets, who have been relying heavily on Nick Foligno, Ryan Johansen and Scott Hartnell to hold up the offense in the meantime.
The Blue Jackets no doubt hope this is the beginning of some good fortune coming their way. After the start they've had this year, they could use any bit of good news.
Follow me: @2PSBlog