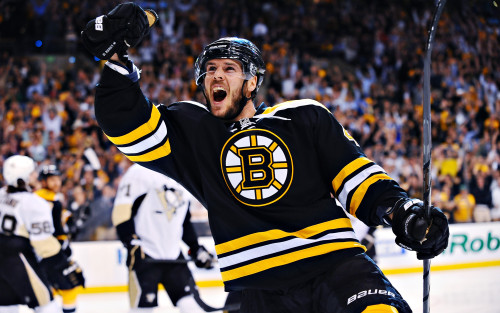 IT'S TIME.
EVERYONE STAY CALM. I REPEAT. STAY. CALM.
WHAT? NO. I DIDN'T FLIP THAT TABLE. I SWEAR IT WASN'T ME.
Hallelujah! Praise Lord Stanley in the hockey heavens! If you haven't been counting down on your calendar (don't worry, I have. I've got you covered) there are 3 days left until the B's take on the Flyers in their home opener of the 2014-2015 season.
Now. If that didn't sink in, let me repeat. THERE ARE 3 DAYS LEFT UNTIL THE BRUIN'S HOME OPENER.
YES. I AM YELLING. THIS IS A BIG DEAL.
After months of heartbreak, being stuck in a glass case emotion, ripping the hair out of our heads, and almost throwing ourselves out a window (on multiple occasions) hockey is finally here to breathe the life back into us once more.
Oh how we have missed "TUUUUKKK" ringing through The Gahden like music to our ears, Jack Edwards practically keeling over from excitement, and Pierre McGuire making a damn fool of himself climbing over the boards to try to marathon run to the players.
Not matter how excited we get to see all our boys back on the ice once more, the Bruins just love to tear it down.
As if losing Thornton and Iginla accompanied by the scare of the postponed resigns of forward Reilly Smith and defenseman Torey Krug, General Manager Peter Chiarelli (aka Caterpillar Porn-Stache) and the rest of the Boston Bruins Organization continue to make us beat our heads against the wall and have made yet another heavy transaction before the NHL trade deadline, a few minor roster transactions, and soon to come auditions for forward positions on the roster for Wednesday night's opening game. Joy to the world.
We're going to take you on a play-by-play of what to expect for this upcoming season including all the drama, heartbreak, and nail-biting suspense:
First on the Agenda: Johnny Boychuck
Here we go on another installment of the soap opera that is the Boston Bruins. Yesterday afternoon, fans across the league got word of the transaction that took place between the Boston Bruins and the New York Islanders. Defensemen Johnny Boychuck was traded to the Isles for 3 draft picks; two for the 2015 draft and one for the 2016 draft. Not only fans, but players as well as Coach Claude Julien, took the news to heart: "It stings for everybody and it stung for me, too," Julien told the press this morning, "We obviously support our organization and understand why they had to make some of those tough decisions. But is doesn't mean the sting isn't there".
D-Man Adam McQuiad, who has just come off of his aggravated groin injury from last season, says it still hasn't hit home that Boychuck is leaving: "I was really surprised. I don't think it's really sunk in, yet… We all just kind of hoped maybe somehow we could all stay a part of this group".
And he wasn't the only defensemen in the Black and Gold who took Johnny Rockets departure hard. Captain Zdeno Chara and defensemen Dennis Seidenberg – who is also coming off an injury from a torn ACL and missed most of the 2013/2014 season – both have been quoted saying that it hurts to say Johnny left and he will be deeply missed.
It's hard for us to see anyone from the team go, but when it's a veteran like Johnny, it's really got us feeling some type of way.
GM Peter Chiarelli himself was upset that it had to be done, but he's confident in how the team is starting to look for Wednesday night: "We've got guys that are going to step up. They're not the same player as Johnny, but we've got some players that are returning from injury (Adam McQuaid). We got some players that are coming into their own (Matt Bartkowski). We got a player in Dougie Hamilton that's really picking up. We got Dennis Seidenberg coming back from injury, shaking the rest off; he was good last night and better every day… You have to rely on the other D-Men picking up the slack".
For us fans, it's not easy letting go of someone like Johnny Boychuck, and it wasn't any easier for us to say goodbye to Shawn Thornton earlier this off-season, either. As much as we wish that we could go set Chiarelli on fire, we understand that the organization is trying to do their best in terms of finding a win in 2015 and taking the Stanley Cup home to Boston once more.
We have strong defensemen coming back that we needed last year in Adam McQuaid and Dennis Seidenberg. They are going to play big roles in the cup race this year with their speed and ability to get the puck in the net. Dougie Hamilton is starting to grow into himself and get shots to the back of the net more and more as the games go on. Matt Bartkowski is determined to show fans and the Bruins Organization what he's capable of, and it started with storing a short-handed goal during the pre-season game against the Islanders last Tuesday.
And of course, how could we forget about Big-Z?
Simon Gagne
Over the past few days, Chiarlli has been in contact with Simon Gagne and the idea of him sticking around in Boston for a bit longer to see how he feels along with the possibility of a spot on the team (as space allows).
Gagne never gave Chiarelli a clear answer as to if he would like to or not, but he has been skating every day with the team and seems confident in his recovering after not playing for little over a year.
"My impressions are that he's getting better. I think he he's skating better. He's starting to get his hands back. He's been away from the game for the whole year… It's a play it by the ear, day to day. See how his legs feel, see how his hands feel. See how it goes."
Is there a possibility that we will see Gagne officially skating with the B's during the regular season? Possibly. It's definitely turning to be a see-saw kind of deal between the two. We don't want to throw away money on an injury-prone player who could very possibly miss a lot of games due to a minor concussion.
There is no way to be sure whether Gagne will be playing with the Bruins or help them in the race for The Cup, but it will be interesting to see how it's going to play out in the end.
Pre-Season Leaders
During the past few weeks of pre-season, the B's have seen some ups and downs (mostly depending on who they were playing that night). But it has given fans and the Organization a chance to see who is really starting to show what they are capable of and will bring to the table this upcoming season.
Matt Fraser, Seth Griffith, and Brad Marchand were all leaders in goal scoring over the past few games, all with 2 goals hitched under their belt and ready to go for Wednesday.
If there was someone who deserved an official spot (besides Ryan Spooner) it would be Matt Fraser. He played a key role during the 2014 Stanley Cup playoffs as he played four games, snagged himself 1 goal and 1 assist and earning himself 2 points. Not bad for four games. During the regular season in Providence, Fraser played 44 games, scored a total of 20 goals, hopped on 10 assists, and totaled 30 points by the end of the season.
Well then.
Marchy leads with points (a total of 4) followed by Bergy (3) and Dougie (3).
Chara leads the boys in plus/minus with a +5, Dougie Hamilton with a +3, and Bergy with a +2.
Even though we may have lost Boychuck, Dougie Hamilton has been continuing to prove himself over the past season to step up to the plate and prove himself as a worthy defensemen and possibly help lead the team to get their bear paws on the Silver Cup in the 2015 Stanley Cup Playoffs.
Last season, our red-headed youngster played a total of 64 games and scored 7 goals with 18 assists. By the end of the season, this fiery defensemen racked up 25 points with a +22. During the playoffs, Dougie played 12 games, scored 2 goals, 5 assists, got himself 7 points, and a +1. Pretty good for his second playoff season ever.
No need to worry, Bruins nation. We have faith in our Hammy.
Auditions for Forward Positions
Forwards Ryan Spooner and 1st round draft pick David Pastrnak will go head to head on October 5th in auditions for a forward position on Wednesday night's opening game roster. Put on your tap-dancing shoes boys, because here we go.
This is the second year in a row that Ryan Spooner continues to prove that he is NHL worthy. Last season, Spoons played a total of 23 games with 11 assists and 11 points under his belt. Down in Providence, he played 59 games, scored 17 goals, 40 assists, snagged himself 57 points, and racked up a +14.
David Pastrnak showed no mercy during Training Camp for the B's a few weeks back, and showed coaches as well as the rest of the Organization that he has the attitude and charisma to earn himself a spot on the roster coming straight out of the draft.
The only problem? His board work. Pastrnak was injured a few weeks back by taking a hit from Matt Bartkowski during one of the days at camp and finally made his debut last night against the Detroit Red Wings. We haven't seen enough of him to truly make a decision for ourselves as to whether he should sneak in a spot for Wednesday night.
Predicting what we should expect for the Bruins on Wednesday is tricky when it comes down to all of the drama rushing in on us at the last possible second (Thanks, Chiarelli).
But what we do know? The boys are back. Maybe not better than ever but definitely with the same attitude, vibe, and determination as always. October 8th will make for an interesting home opener. With players like Tuukka Rask, Patrice Bergeron, David Krejci, and Zdeno Chara, how could we ever be disappointed? Seeing them together on the ice once again is good enough for us… And their hearts grew three sizes big.
Our run for The Cup this year will be as fierce as ever; the mix we have with veterans and fresh meat are sure to get us far and prove to the rest of the NHL that the Bruins are back and with a vengeance.
Whoaaaaa, we're halfway there!
Whoo-OAH LIVIN' ON A PRAYER!
Love Reading About Hockey?

Subscribe to keep up-to-date with the latest and most interesting hockey news!
| | |
| --- | --- |
| | We hate spam just as much as you |