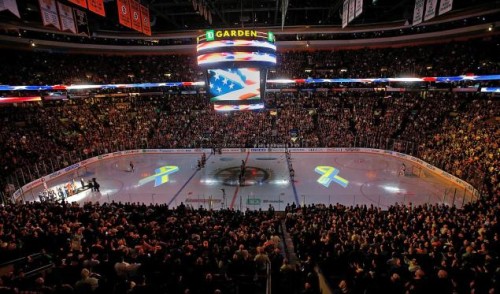 This is it, folks. The moment we've all been waiting for. The moment when our beloved sport of hockey returns, along with fights starting over spilled beer, that one guy who wore a Habs Jersey to a B's game, and disputing arguments over who really should've gotten traded over the dreaded offseason.
BUT WORRY NO MORE.
The NHL's 2015-16 season officially begins Wednesday, October 7th and that means the boys in black and gold are back. Well. Kind of. We have about an eighth of our remaining 2013 Stanley Cup team but the past is in the past and so we move on.
This past offseason has brought us B's fans so much drama that "Behind the B" might as well be turned into an ABC Family original series.
Here's What's Goin' On
Peter Chiarelli finally got the boot we've all been waiting for, and Don Sweeny took the throne (who has the makings for a Game of Thrones kind of King Joffrey bullshit but we continue to pray).
Dougie Hamilton was traded to the Calagary Flames and it was both the best and worst thing that could've possibly happened to us.
Gregory Campbell and Daniel Paille no longer sport the spoked B.
My life is in ruins.
As of right now, the Bruins roster stands at 25 players. Team management has until the night of October 6th to submit their final 23-player roster before opening night.
Not including Captain Zdeno Chara, who is still day-to-day, there are 17 forwards, 7 defensemen, and 2 goaltenders.
The latest cuts to the team includes: Anton Blidh, Alex Khokhlachev, and Brian Ferlin all assigned to Providence.
Joining them: Defensemen Tommy Cross, Forward Max Talbot, and Jeremy Smith all put on waivers for purpose of assignment to the Providence Bruins.
That leaves the remaining Tyler Randall, Joonas Kemppainen, and Zac Rinaldo battling to the death for the remaining roster spots.
Jonas Gustavsson just signed a 1-year, 1-way contract on Sunday, October 4th worth a cap figure of $700,000 and looks to be Tuukka Rask's main back-up goaltender.
Gustavsson has spent his seasons in 2012-2015 with the Detroit Red Wings playing a total of 41 games and earning himself a 21-10-6 record.
In total, (including his stay with the dreaded Toronto Maple Leafs) Gustavsson has played 148 career NHL games with a record of 60-55-21, a 2.89 GAA, and a .901 save percentage.
Key Players
Tuukka Rask
In the 2014-15 season, Rask played a total of 70 games with 4,063 minutes played. Rask's GAA was at a 2.30, a record of 31-21-13, 3 shut-outs, and a save percentage of .922.
Patrice Bergeron
He's Saint Patrice, this needs no explanation.
GP: 81 G: 23 A: 32 P: 55 +/-: -2
Brad Marchand:
He was our lead goal scorer last season for weeks on end. Let's not even go there.
GP: 77 G: 24 A: 18 P: 42 +/-: 5
David Krejci
Even though his reliability as a goal scorer can fluctuate from time to time, Krejci continues to be a key element in leadership and support within the team. Why do you think he's always tagging along on so many assists?
GP: 47 G: 7 A: 24 P: 31 +/-: 7
Ryan Spooner
Young. Talented. The Ryan Gosling of the NHL. What isn't there to love? Spooner is quick on his feet, creates traffic in front of the net, and consistently makes good, solid plays.
GP: 29 G: 8 A: 10 P: 18 +/-: 2
Seth Griffith
Still out with an injury, but wowed us all just like Torey Krug did in the 2013 Stanley Cup Playoffs. Griffith will prove to be a solid member of the team throughout the course of the season. We've just barely gotten a taste of what he's capable of.
GP: 30 G: 6 A: 4 P: 10 +/-: -2
David Pastrnak
Baby Pasta always aims to impress, and he did so more than Tyler Seguin during his own rookie year. Pastrnak will prove to be a key element in making this team Stanley Cup worthy again, fan-girling over Krejci the whole way.
GP: 46 G: 10 A: 17 P: 27 +/-: 12
Torey Krug
I don't even have to explain this one. Plus he was sporting a handsome "A" on his jersey during pre-season. C'mon people.
GP: 78 G: 12 A: 27 P: 39 +/-: 13
Kevin Miller
Even though Millsy was out with injuries last season, he grew as a Boston Bruin. He continues to show his capability as a defensemen, play maker, and team leader.
GP: 41 G: 2 A: 5 P: 7 +/-: 20
What Should We Expect?
Chaos.
Utter Chaos. (At least for the first week or two).
The Boston Bruins did better than expected in the Pre-Season games, and solely with rookies. Coming into the season with a young and ready team will give the B's the edge they've been looking for.
Think positively, these young kids can only get better from here on out with the kind of veterans they have teaching them. (Wax on, Wax off.)
So don't worry folks, I think we've at least got a wild card play-off spot comin' our way.
*Dropkick Murphy's intensifies in distance*