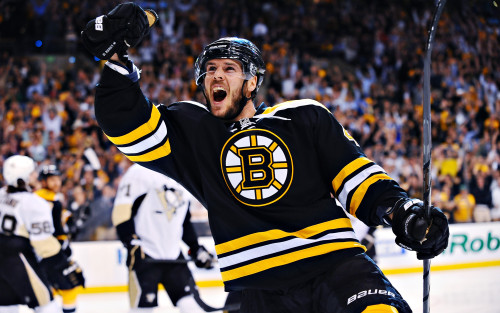 It's that time of year again, folks.
The air is starting to get a crisp, sharp feel about it, the leaves are beginning to change, and us hockey fans are breaking out those jersey's we've had carefully wrapped and put away in our own secret hiding spots as to not ruin it in the slightest (Mmm… still smells like my last night at The Gahden).
After quite an emotionally devastating off-season, Bruins fans across the nation have received relieving news:
David Krejci has been re-signed up through the 2020-2021 season.
Although his current contract isn't up until the end of the 2014-2015 season, Peter Chiarelli deemed it fit to sign him sooner rather than later (finally he did something right). Krejci's new deal is worth $43.5 million.
Not bad. Not bad at all.
Krejci finished up the 2013-2014 season with 19 goals, 50 assists, and 69 points.
To all the haters in the world who thought him to be prime trade material, please take one step to the left.
As good as the new Krejci deal is now, there is still a storm off in the distance. Defensemen Torey Krug and Right-Wing Reilly Smith still await their own contracts while Carl Soderberg, Johnny Boychuck, and Dougie Hamilton are all up for re-signs and contract extensions at the end of this upcoming 2014-2015 season. Up to bat after that? Forward Milan "The Enforcer" Lucic.
All we can do now is continue our worship and praise to Lord Stanley and all other Hockey Gods in hopes of a less-traumatizing offseason next year.
The good news? Opening season is just about a month away. So buckle in.
Love Reading About Hockey?

Subscribe to keep up-to-date with the latest and most interesting hockey news!
| | |
| --- | --- |
| | We hate spam just as much as you |