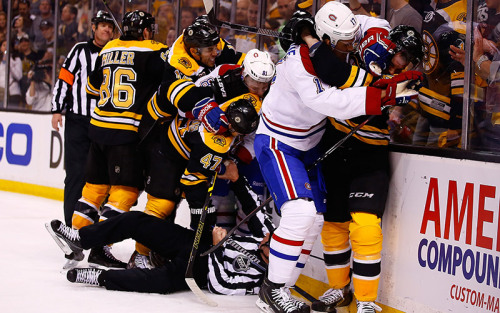 It's been a little over a month since the boys in Black and Gold returned to Boston ice, and already they've sent half of the fans in Bruins nation howling to the nuthouse from sheer anxiety and emotional distress and/or threatening to burn down the city if they don't pick up the pace soon.
Love makes us do crazy things.
Due to a hefty amount of injuries this early on this season, the Boston Bruins have slowly started to become a posse of the Providence Bruins as players from our farm team try to fill in the very big shoes left by players like Zdeno Chara and David Krejci whom are key components to leading the Black and Gold to victory. Add on defensemen Kevan Miller and David Warsofsky and we have ourselves a pity party! *slams head into wall repeatedly*
So far –
The Bruins have won 11 games (2 in OT and 1 in a SO) with a total of 8 losses. But it's okay! I have a paper bag right here if you need to breathe into it, I got you.
There's no denying that the hockey we've been seeing isn't exactly what we would define as "Bruin's Hockey", but after Saturday's matinee game against the Carolina Hurricanes we are starting to see those burly bears we know deep down come alive once more!
WARNING: DO NOT POKE THE BEAR.
Biggest problems:
Lack of Focus: The Bruins have started out the past few games strong, usually scoring a goal within the first period. But after the opposing team ties it up somewhere in the second, the boys lose their confidence and thus lose their focus. *Edna Mode voice* PULL. YOURESELVES. TOGETHER.
Keeping a Strong Physical Presence: This goes hand-in-hand with the focus and confidence problem. The moment we lose those two key factors of the game on the ice is the second that we are no longer intimidating to the other team or getting our noses dirty in front of the net. A good example? The Toronto/Montreal road trip. DON'T YELL AT ME. SOMEONE HAD TO SAY IT.
Shaky Defense: There's no denying that without enforces like Kevan Miller and foreboding presence of Zdeno Chara to round up the troops that are team is definitely hurting. The good news? Dougie Hamilton has been able to muster up some of Elsa's ice powers to score at least one goal/two assists per game and we have The German Hammer and Darth Quaider back. May the force be with you.
Offense/Defense Power Transfer: Now, that may not have sounded very clear so here's the clarification. Depending on the game, either the defense of the offense is working hard while the other is just a smudge lackluster. The B's can't perform on the ice the way they want to if one side of their ying-yang isn't balanced. Yoga classes are definitely in order.
What Needs to be Done: Obviously more attacking power in the offensive zone, aggressive on the puck in the defensive zone, better defensive coverage of the net, and no more experimental line swaps.
It's clear that after Saturday afternoon's game that the Black and Gold are starting to get their feet firmly planted back on the ground. "Obviously a step in the right direction," Coach Claude Julien told the press after their win over the Canes, "I thought we were overall better." So did we Claude, so did we.
Even though a few key players are missing to help push our team to the spot we need to be in order to create a true run for The Cup, we've gained excellent players and have been given some seriously needed redemption from others over the past few games that we haven't been able to see in a while:
Tuukka Rask: DISCLOSURE: Rask is my favorite player but nothing I am about to say is biased towards him in any way. We all know that along with everyone else on the team, Tuuks has been having a bit of a rough time. And who can blame him after a such a disheartening Montreal series?
As of right now, Rask has won 9 games in the 14 he's played, ranking himself 6th in the league. He has 5 losses, .908 SV%, and 2.56 GGA. Not the prettiest numbers, but not the worst either.
Rask spoke to the press on Wednesday night after the Toronto game, "It wasn't my best night, it wasn't the team's best night. We just have to live with that and move on."
And again, in Montreal: "I know I'm going to get a bounce-back game, and feel good about myself."
Saturday night was exactly the kind of win not only Tuukka needed, but the team needed in order to get that Bruins Spark blazing in them once more and lead us into victory against the St. Louis Blues on Tuesday, 11/18.
Seth Griffith: First of all – Holy. Shit. If there was to be rookie to give Torey Krug himself a run for his money, Seth Griffith would be that rookie. Since Griffith has been recalled from The Baby Bruins in Providence, he's played a total of 15 games, scoring 5 goals, 2 assists, and totaling 7 points.
When asked by the press about the team's game-play, Griffith responded, "We've got to stop letting other teams get the early lead on us because some games, it kills us." Already Griffith has a pretty good grasp on what is expected of him being up in Boston, and he isn't about to let it go. *2008 Zac Effron Voice* Getcha, getcha head in the game.
Seth Griffith is breaking hearts and taking names left and right without a second thought.
So –
The question that remains: What should we expect now? Well kids, some definite ass-kicking with little to no mercy being shown (especially with Montreal taking a trip down to B-Town, Saturday 11/22).
The Bruins are ready to play some serious Boston Hockey – take no prisoners.
Love Reading About Hockey?

Subscribe to keep up-to-date with the latest and most interesting hockey news!
| | |
| --- | --- |
| | We hate spam just as much as you |