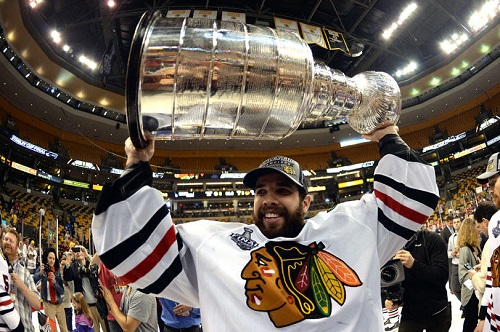 It's probably safe to say that Stan Bowman plays with Legos in his office when he isn't working on hockey matters. If anyone knows how to build things, it's Bowman.
Recently the General Manager for the Chicago Blackhawks continued to build a successful franchise when he resigned two key players from the Stanley Cup winning roster to contract extensions. Corey Crawford signed a six-year deal while Niklas Hjalmarsson signed a five-year deal.
After the Blackahwks won the Stanley Cup in 2010, Antti Niemi, the starting goaltender, was sent out of Chicago due to the inability to keep him under the salary cap. Niemi was replaced by Crawford, and the Blackhawks aren't letting Crawford get away as Niemi did.
Crawford's six-year deal is worth a total of $36 million, which puts his contract just behind Pekka Rinne and Tuukka Rask.
Bowman is showing real confidence in Crawford who, although just helped Chicago win the cup, had to bounce back from a sad sophomore performance in 2012. Last season Crawford proved he can perform at the top NHL level and be successful. But he will have to hold onto that confidence moving forward. Crawford has shown in the past that he can let his head get in the way of his performance. If he continues to shake off critics and bad games, and there will be more of both, then he will prove Bowman's predictions correct.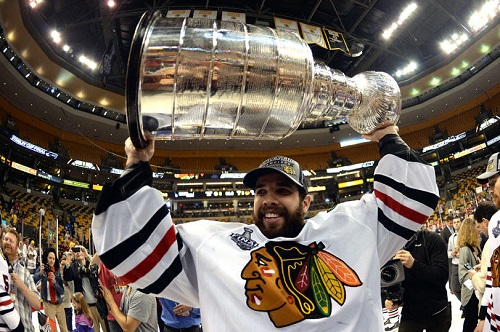 Hjalmarsson's deal totals $20.5 million over five years and starting in the 2014-15 season, his contract alone will take up $4.1 million in cap space. It's a high contract for sure. But the Swedish defenseman has two cup rings with Chicago, both of which may not have happened. In 2010 Hjalmarsson signed an offer sheet from the San Jose Sharks, but was able to be retained in Chicago when Bowman offered him a four-year $14 million deal. That's a high price tag for only four years, and Bowman took some heat for it at the time. Doubters are eating their words after two cups in those four years.
But Hjalmarsson will have to keep it up. So far, he's performed as a solid defenseman. Not a big goal-scorer, doesn't always change up the score sheet on a nightly basis, but can be confident on the blue-line. His experience and chemistry with this team will be essential and Hjalmarsson should be at that point in his career where he is starting to come into his prime. If that's true, Bowman's extension is a lock and we can start to see Hjalmarsson shake up the score sheet a little more.
Hjalmarsson's deal puts him just behind defensive duo Brent Seabrook and Duncan Keith in terms of defensemen cap space and experience. Hjalmarsson was a big piece of the Blackahwks championship puzzle for the last four years and it appears that Bowman is confident enough in Hjalmarsson's abilities, that he wants that piece to stick around.
In fact, it looks like he wants all the pieces to stick around. Bowman went on the record recently saying that Blackhawk superstars, Jonathan Toews and Patrick Kane, will "be here forever."
While both Toews and Kane have two years left on their contracts, Bowman doesn't want the faces of his franchise to leave. Ever.
"I can't predict what the salary cap will be in the near future, but I can tell you that Jonathan and Patrick will be on this team," said Bowman. "Those two players put the Blackhawks back on the map, they're up in a couple years, and whatever the numbers are, we'll figure out the details. The notion that the money we're spending now will affect our ability to keep Jonathan and Kane…it's a non-issue. They will be here no matter what."
It sounds like the franchise Bowman is building will be permanent.