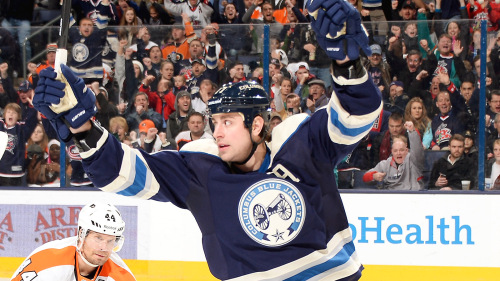 When it rains, it pours. The Columbus Blue Jackets are finding that out quickly.
On Tuesday, the team announced center Brandon Dubinsky would be placed on injured reserve with a "lower-body injury", making him a scratch for Thursday's opener in Buffalo.
The Blue Jackets have already had a rough time this offseason and this is the latest in a string of bad luck. After a lengthy contract battle that cost him all of training camp and the preseason, Ryan Johansen still can't join the club due to immigration issues. Nathan Horton, the big free agent acquisition last summer that missed a good chunk of the season due to injury, is out indefinitely once again with a degenerative back issue. Boone Jenner, who played on the top line with those two, is out for at least a month with a broken hand, and stud defenseman Ryan Murray is on the injured-reserve with a knee injury.
This is especially tough for the Blue Jackets. Last year, the team was the feel-good surprise story of the year. They made the playoffs as a wild card and challenged the heavy favorite Pittsburgh Penguins in the first round, nearly upsetting them before bowing out in six games in one of the more exciting opening-round matchups of the playoffs. Coming into the offseason, the team was hoping to build on that and certainly seemed off to a strong start with a trade that brought in veteran winger Scott Hartnell. Since then, it's been an avalanche of bad luck and the team is hoping to just weather the first month at this point.
It's not like they'll get the benefit of an easy schedule, either. After opening with the lowly Sabres, they'll get the defending Eastern Conference champion New York Rangers before beginning a four-game road trip out west with games against the San Jose Sharks, Anaheim Ducks and the reigning Stanley Cup champion Los Angeles Kings.
It's been a rough go of it for the Blue Jackets, but it's tests like these that let teams know what they're really made of. If the Jackets can make it out of this, they will be a team to reckon with.
Follow me on Twitter: @TwoPadStackRW