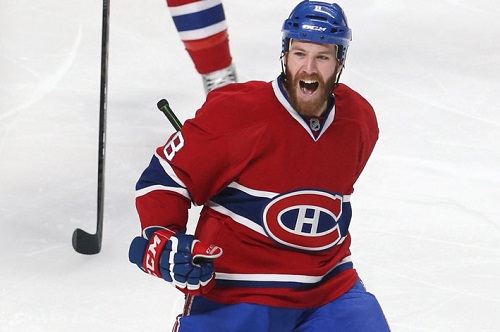 The Montreal Canadiens announced on Friday that forward Brandon Prust has been shutdown for the season with an upper-body injury. Prust has been in and out of the lineup with a shoulder injury and after missing Montreal's last game against the Columbus Blue Jackets, the decision was made to end his season.
"Our medical team decided that it would be best if Brandon Prust did not play the rest of our regular season schedule," Head Coach Michel Therrien said after the morning practice. "The time off will give him a chance to heal and come back one hundred percent in the playoffs."
Prust, 30, has been six goals and 13 points in 52 games this season, along with 121 penalty minutes. For most of March he has been centre on the team's checking line, with Travis Moen and newcomer Dale Weise. The line was proving to be effective on both sides of the puck, especially in Montreal's recent game against the Colorado Avalanche, where all three scored goals in a 6-3 win. Prust's goal below put Montreal up 3-2.
Prust was named second star of the game despite leaving in the first period after falling awkwardly into the boards. He returned to the game but hinted that whatever his injury was, it did hurt.
"I was a little scared, I was in a little pain, but we got it fixed up," he told the Montreal Gazette after the game. "I guess it's my hat trick, but it's not a separated shoulder, don't be starting rumours."
Whatever it was, it kept Prust out of the next game against Columbus and now the rest of the season. It is possible that he could play in the playoffs, but he would have played a key in role in making sure Montreal even gets that far.
Prust's injury does open up a door for Alex Galchenyuk. The 20-year-old will get an opportunity to play center, a position he played for the OHL's Sarnia Sting. If line rushes in practice Friday are any indication, Montreal will move Lars Eller to Prust's spot on the third line while Galchenyuk will center Rene Bourque and Brian Gionta on the second line.
"Throughout the year, I don't think too much about where I play. Whatever happens, happens," Galchenyuk said. "Now, I'm excited to be playing center. I like the position so I'm looking forward to playing the next game."
He also added that he wants to move to center full time, despite already putting up a lot of offence from the left wing. With injuries, he currently has 12 goals and 28 points in 56 games.
"I want to establish myself as a great centerman in this league," Galchenyuk said. "I'm still young and have a long way to go, but I want to make a step in the right direction in tomorrow's game."
The move means Montreal will have a significantly different lineup when they head into one of the most important road trips of their season. On Saturday, Montreal goes to Toronto, with the Maple Leafs only three points back in the division standings. Then on Monday, the Habs go to Boston, who have all but locked up first in the division. But with three weeks to go, every point matters and if Montreal can beat the Bruins, they could get some confidence heading down the stretch.
Both Toronto and Boston play rough games which a player like Prust thrives in. But Gionta insists it takes more than size to win games and that Montreal will be ready for them.
"Against Toronto and Boston, these are four-point games, especially with only eleven games left in the season," he said. "In the past people talk a lot about their size and strength, but it doesn't matter if we're on our game.