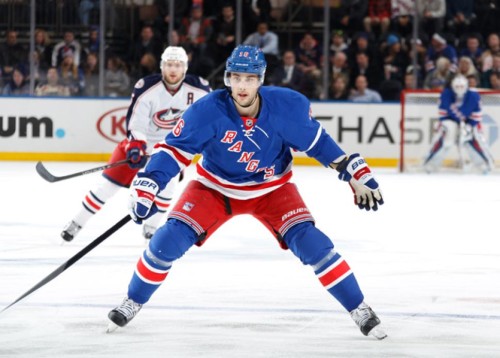 The New York Rangers were successful in avoiding the actual hearings with all three players who elected for salary arbitration. After Mats Zuccarello (one year/$3.5 million) and Chris Kreider (two years/$4.95) signed their deals last week, Center Derick Brassard was the last domino to fall, agreeing to a five year/$25 million dollar deal with the Blueshirts over the weekend. The deal lasts through the end of the 2018-19 season, and is a $1.8 million dollar average annual value raise over his previous contract. The Rangers still have roughly $1.3 million in cap space remaining, but still have to squeeze in RFA defenseman John Moore.
With the bump in salary comes increased expectations, and the bar will be raised for Brassard entering the 2014-15 campaign. He's going to be the team's second line center (behind Derek Stepan, more on him in a second), and he's going to have to build on his 45 point total (18 goals / 27 assists) from the 2013-14 regular season total (six goals and six assists in the playoffs). Brassard centered the team's third line last season between Zuccarello and Benoit Pouliot (now with Edmonton), and enjoyed success as the playmaker on the team's most consistent line. If Rangers Coach Alain Vigneault chooses to pick up where he left off in terms of line combinations, it looks like Brassard will play between Martin St. Louis and Carl Hagelin. I would also expect him to shoulder a little more of the load on the power play, too.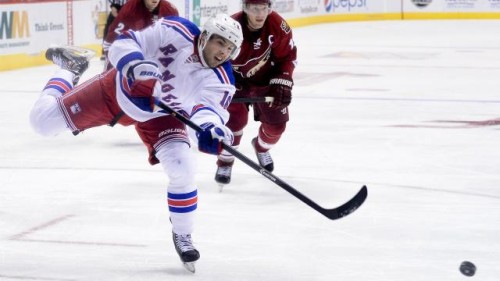 For the short term, I like this contract. $5 million may be a little steep for Brassard, but the Rangers are very thin down the middle at the moment, and locking him in gives the team a little piece of mind at the position. What worries me about this deal is that it's obvious that Derek Stepan is the Rangers top center, and his contract expires at the end of the season. He'll be a restricted free agent, which gives the Rangers a little bit of a safety net. But after the way the contract negotiations went with Stepan and Rangers GM Glen Sather last summer, he's going to be looking for at least $5.5 million per season after taking a bridge contract last time. The Blueshirts' brass have a year before they have to worry about that. What they need now is for the 26-year old Brassard to play at the level that made him the sixth overall pick of the 2006 NHL Draft.