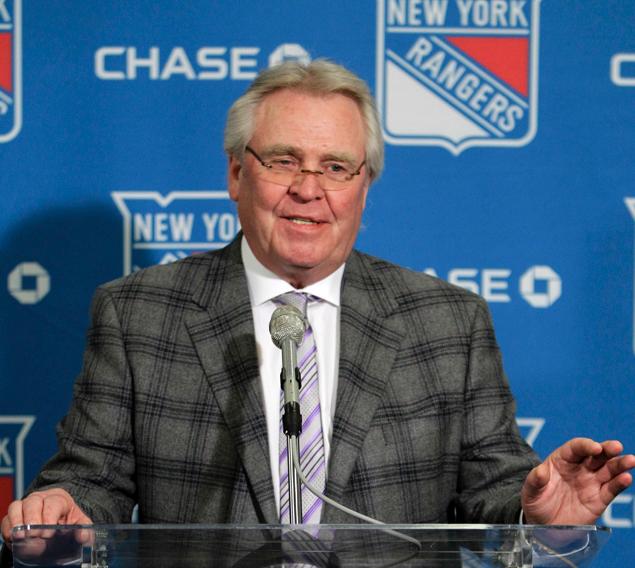 When it comes to bad-mouthing New York Rangers General Manager Glen Sather, most Blueshirts fans have at least an Associate's Degree, if not a Bachelors, Masters or PhD. For years, we've seen the man sign stars to big deals past their primes (late 1990s / early 2000s), overpay players by exorbitant amounts (Bobby Holik, Scott Gomez, Chris Drury, Wade Redden, Brad Richards' contract appears to be heading in this direction), and still managed to keep his job thanks to his reputation from what he did with the Edmonton Oilers in the 1980s. He has made some shrewd moves over the past few seasons (the Ryan McDonagh trade, the Rick Nash trade, the Marian Gaborik trade, putting Director of Player Personnel Gordie Clark in charge of the draft) to win back some favor among the Garden Faithful. However, the cigar aficionado may have put himself back in the doghouse with one interview.
The Rangers are currently training out in Western Canada to wrap up their pre-season. Derek Stepan has yet to see any action with New York so far this pre-season. Stepan is a restricted free agent, who is coming off his best season on Broadway. Arguably the Rangers best offensive player last season, the team's top Center led the team with 44 points (18 goals / 26 assists). Stepan was originally looking for a long-term deal, but the two sides were able to agree on his next contract being a shorter, "bridge contract". The issue now is the amount that Stepan will be paid. The Rangers don't have a lot of cap space at the moment, which makes working out a deal tough. Putting your foot in your mouth never helps, and Sather did just that during a 2nd intermission interview on the Rangers telecast during their 4-1 loss to Calgary on Monday night.
"I don't think Derek is going to let this thing linger that long," Sather said in an interview on MSG. "I don't think he is a big enough fool to think that he will sit out the year and it will do any good. He is in a gap contract and every one of our players has signed a gap contract."
Sather continued with a comparison to another sport:
"You look at the football players who are making minimum wage, they get paid after they go through that time. I find it frustrating that some teams are in a hurry to sign these guys to big contracts. I think it's because the owners or managers panic and it's unfortunate that he has listened to his agent and decided [to do] that."
The other key quote from the MSG intermission interview:
"He is going to get paid, but it isn't today," Sather said. "I hope he gets wiser because every day he misses is a big deal. We have offered him a very good deal. When he turned down our qualifying offer, we have stuck with that. He has to start smelling the roses and figure out what is going on. I hope he does."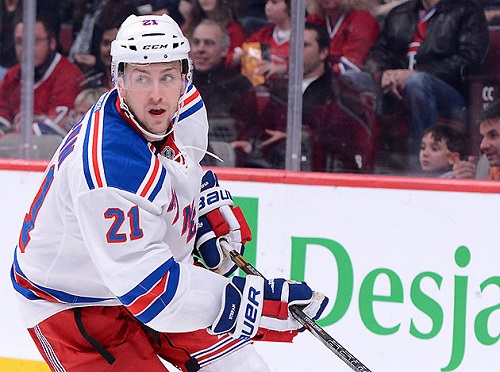 Stepan's agent (Matt Oates) may have been the person to initiate the "negotiating through the media" tactic, but Sather has to be the bigger man. Insinuating that one of your best players would be a "fool" for sitting out, and hoping that he "gets wiser" (which is a roundabout way of calling someone a dope) is not exactly extending an olive branch. A smart GM would have given the standard, boring answer of "We value Derek's contributions to the team over his three seasons here. We continue to negotiate with Derek on a regular basis, and we're confident we'll get something done in due time." Is that so difficult?
Sather also must have amnesia, because D Ryan McDonagh didn't have to sign a "gap contract" off of his entry level deal. Like I've said in a previous article, quality young defenseman like him are rare and he's an exception, but Sather can't keep saying the organization "never" does something when they just did it mere months ago.
Hockey is a business, but players also don't forget how they were treated during contact negotiations. I wouldn't be shocked to see Stepan sign his "gap" contract, play his butt off for two years (or however long the gap contract will be), and leave via unrestricted free agency after the 2014-15 season. The Rangers thought their search ended for a top-line center ended when they brought in Brad Richards. That was true for a season, but with Richards appearing to be on the Back 9 of his career, the 23-year old Stepan looks ready to fill that role for a long time. Questioning the negotiating intelligence of a homegrown talent is never a wise decision, and could blow up in Sather's face in a couple of years.