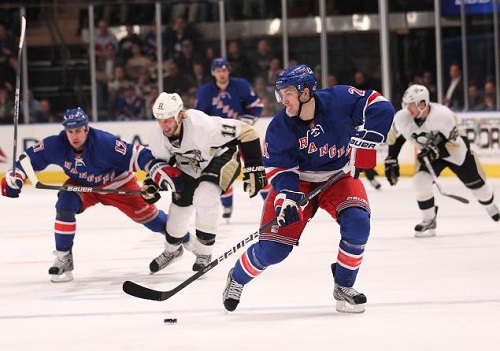 A little over a week ago, Rangers General Manager Glen Sather did a radio interview with Jason Gregor of the Team 1260AM in Edmonton. They covered many topics, but some of the biggies include Derek Stepan's contract status, Brian Boyle, Brad Richards, and Marc Staal.
On the Hiring of Alain Vigneault and Firing of John Tortorella
-Sather said he didn't like last year's system because it inhibited the talents of some of their players. He prefers more of an open-ice style, and he thinks AV is the guy for that. He had no ill-will towards Tortorella, and also said that he thinks both hirings are good fits for both the Rangers and Vancouver Canucks franchises. Rangers fans are all too familiar with questionable Sather decisions, but this time he got ahead of it and got it right with one year remaining on Tortorella's contract.
Marc Staal's health
-When asked about how he's been progressing from that gruesome eye injury, the Rangers GM said Staal is 100%, fully recovered, and expects him to have a great season. If Staal truly is back to 100%, the Rangers would have one of the best groups of Top 4 defensemen in the league
Derek Stepan's contract status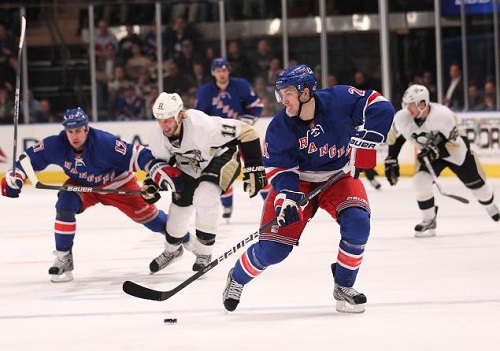 -Historically, the Rangers give two-year "gap" contracts (as Glen called it) off of an entry level deal, and then renegotiate after the 1st year. He likes Stepan, but said that he won't be getting a long-term contract at this point. Stepan will "have to wait to get the big bucks". I'm not going to bring up the list of veterans Glen has mistakenly given "big bucks" to in the past, but he's flawed in making that statement for two reasons. Firstly, you just gave a six year deal to D Ryan McDonagh, who is coming off his entry-level contract (so much for history). I get that all-around defensemen like him are rare, and exceptions need to be made from time to time. But the Rangers have been lacking a legitimate top-line center for a long time now. Stepan earned his way in to the top-center role last season. Maple Leafs Center Nazem Kadri is a "bridge contract" candidate because he hasn't' proven he can consistently perform at a high level, not a guy whose numbers have gone up each year like Stepan has. I'm not saying to overpay Stepan either (with contracts still needed for Henrik Lundqvist and Ryan Callahan), but you don't want to insult him either. What if his numbers go up again? He may not want to renegotiate after one season, and test his value on the open market in a couple of seasons. Reliable, good, play-making centers are hard to come by. If Stepan isn't signed by the opening of training camp, that could be an wanted, daily story-line/distraction.
Brad Richards' subpar season
-He suggested that a summer filled with CBA negotiations for Richards didn't allow him to train the way he would have liked to get ready for a short season. I understand that eating catered food and being in board rooms all day doesn't exactly get the cardio going, but come on Glen. There are plenty of average joes across the continent that work their full-time jobs and still find time to make it to the gym. I get that the level of training to play NHL hockey is far from just staying fit. But to insinuate that was the reason for his down year? You would have been better saying that it was a blip on the radar and that you expect him to be better in 2013-14. If he doesn't get better, you have the luxury of one compliance buy-out remaining.
Brian Boyle isn't going anywhere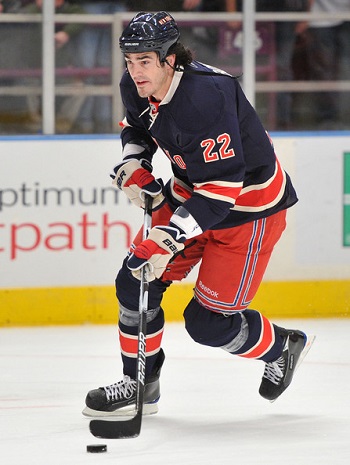 -Greg asked Sather if he has gotten any offers for C Brian Boyle. Sather said he has fielded many calls on the big center, but isn't anxious to trade him. Sather called him a good player, a great team guy, and someone that still has upside. He went as far as saying he's a guy you could "regret" trading down the line. I like Boyle's size and his face-off ability. I won't hold it against him that he's not a fighter (not everyone is). But at 6'7″, but I'd like more physicality out of him. He's not a player that I would be looking to trade, but if a smart offer came along, I wouldn't be against moving him either.