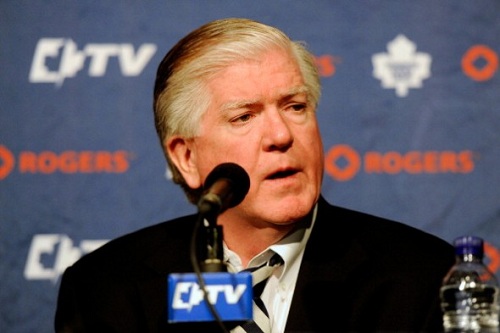 Maple Leafs fans and players, along with the rest of the hockey world were surprised with a move that came out of left field Wednesday afternoon, and don't fret, Roberto Luongo is still in Vancouver. TSN reporter -and the man with all the hockey answers- Bob McKenzie, first reported shortly after noon that Maple Leafs Sports and Entertainment (MLSE) have fired President and General Manager Brian Burke. This was confirmed at a press conference that involved Executive Vice President and COO of MLSE, Tom Anselmi, and former assistant GM Dave Nonis, who has been named the senior vice-president and 14th general manager in Maple Leafs history. For those of you keeping score, this marks the second time Nonis has taken over for Burke, after the same thing happened in Vancouver almost a decade ago. His Canucks team went 130-91-25 with Nonis as the time. Anselmi also confirmed that Burke will be staying on as a Senior Advisor to the board of directors at MLSE, which could just end up being a glorified retirement package if Burke doesn't find other work.
Players were shocked after coming out of an unofficial team scrimmage (due to the new collective bargaining agreement not being ratified yet) with Mike Brown saying "A lot of things are happening very quickly. It's definitely weird timing."
One of the main players who were able to turn his career around after beign acquired by Burke, Joffrey Lupul, agreed that the news was unexpected. When asked if he was shocked he said "completely."
Hired Nov. 29, 2008, the former GM came to the Leafs after months of speculation and denials and was brought in to the hopes of Leafs brass and fans alike, especially after his 2006-07 Stanley Cup win with the Anaheim Ducks. These illusions of grandeur have all been just that, illusions, as the Leafs have missed the playoffs every year since before the 2004 lockout, which encompasses all of Burke's years. This also included a 13th place finish in the Eastern Conference last year, after the Leafs shot out of the gate and were even fighting for first in the East. Dreams came crashing to a halt after the Leafs disastrous run of 19 losses in 24 games in which Burke himself described as "akin to an 18-wheeler going right off a cliff."
At the Leafs press conference, Nonis confirmed that Randy Carlyle was safe as the Leafs head coach. Nonis goes back even further than Burke with Carlyle, as Nonis hired the coach back when he was in the AHL. Although he wasn't able to comment on the Luongo situation due to Luongo being under contract with another team, it is speculated Nonis will try and kick the tires again and at least start conversing with Canucks GM Mike Gillis again. It should be remembered Nonis was the GM at the time the Luongo trade was initially made that brought him to Vancouver. He hinted at possible movement in the near future though.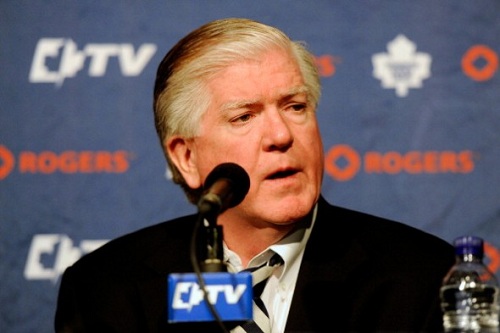 "We're going to have a very short window to make some difficult decisions going forward. We don't know exactly when that start date is, but we have been preparing for it in meetings for the last several days and we're going to continue to do that."
Nonis said he and Burke share the same train of thought on how a team should play, but they do differ in one major way.
"The one place I would say we differ –and you could look at it as a good thing or a bad thing- I would say I'm a little more patient in how I approach things, I wait a little bit longer."
A lot of people are shocked at the timing of the move, as the season is tentatively set to start in 2 weeks, with training camps opening Sunday. Anselmi said that once he and the board had made the decision they acted quickly.
"There's no good time to do this. Once you get to a decision on something like this, it's really only fair to act upon it." "
"You can't fake it."
An idea that might show some reasoning behind the firing is the fact that, as both GM and president, Burke had full control over the hockey team, and didn't need an okay from ownership to make deals or changes. When Rogers took over MLSE as majority owner last year, they may have wanted to get more control over what happens with those changes. A clue of this is the fact that Nonis was made GM and president, but GM and senior vice-president. This is purely speculation, but one of Anselmi's comments seemed to hint at the possibility that ownership wasn't entirely happy.
"The relationship between ownership and a GM is an interesting one, a complex one, and it's very unique."
Burke leaves behind a lot stronger prospect pool, a good young core, but might have tightened his own noose with some of his deals. Here's a look at Burke's history in Toronto.
Record with Toronto as GM – 123-135-42
Winning percentage: .490 which is tied for 26th during that time frame.
Brian Burke's Transaction Highlights
The Good:
June 26, 2010 –Acquires Mike Brown from Anaheim for a 5th round pick
Jan. 31, 2010 –Seven player trade with the Calgary Flames that landed the Leafs Dion Phaneuf , Keith Aulie and Frederik Sjostrom and only sent under achieving players Matt Stajan, Niklas Hagman, Jamal Mayars and Ian White in return. On the same day he sent John Ferguson and Junior players Jason Blake, Vesa Toskala, to Anaheim for cup-winning goalie Jean-Sebastian Giguere.
Feb. 9, 2011 –Traded Francois Beauchemin to the Anaheim Ducks for Joffrey Lupul and the Leafs top defenseman and rookie of 2012, Jake Gardiner. This has been the biggest steal in the last decade for the Leafs, and maybe throughout the league.
Feb. 14, 2011 – Trades Kris Versteeg to Philadelphia for a first and third round draft pick
Feb. 18, 2011 –Trades Tomas Kaberle to Boston for Joe Colborne and a first round draft pick, plus a conditional pick.
July 3, 2011 –Trades Brett Lebda for Cody Franson and Matthew Lombardi
The Bad:
June 26, 2009 – Leafs select Nazem Kadri with the seventh overall pick
July 7, 2009 –Pursues and signs Jonas Gustavsson to one-year contract
June 30, 2010 –Gets Kris Versteeg and Bill Sweatt from Chicago for Viktor Stalberg, Chris DiDomenico and Phillippe Paradis
July 1, 2010 –Signs Colby Armstrong to multi-year contract
The Ugly:
July 1, 2009 –Signs Mike Komisarek to a five year deal
Sept. 18, 2009 – Traded two first round picks which turned out to be to be star young gun Tyler Seguin and stud defensive prospect Dougie Hamilton, along with a second round pick that yielded Jared Knight, for top scorer Phil Kessel