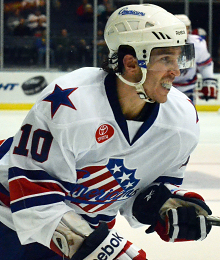 Rochester won this past Friday against the Albany Devils by a score of 5-2. Leading the charge for the Amerks was rookie forward Brian Flynn, who had his first career hat-trick. In addition, he added an assist for a four point night. Goaltender and Buffalo area native David Leggio, was stellar in net as he made 33 saves in the win. Also scoring for the Amerks was defensemen T. J. Brennan who had 2 goals.
Flynn is having a stellar rookie season so far as he is 2nd on the team in goals (8) and 3rd in pts (15). Flynn played 4 years at the Univ of Maine before signing a deal with the Amerks earlier in the year. At Maine, he compiled 156 pts which placed him in 11th place on the school's all-time scoring list. In addition, he earned Hockey East First Team honors his senior season when he scored 18 goals and 48 points.
Prior to beating Albany, Rochester had been in a two game slide, losing to Binghamton (3-2) and Abbotsford (3-2). Currently, the Amerks sit in 6th place in the Western Conference with a 9-6-1 record. Hopefully they can keep their winning ways as they continue their home stand with games against San Antonio and Toronto.
I hope everyone had a Happy Thanksgiving and hopefully the NHL lockout will end soon!