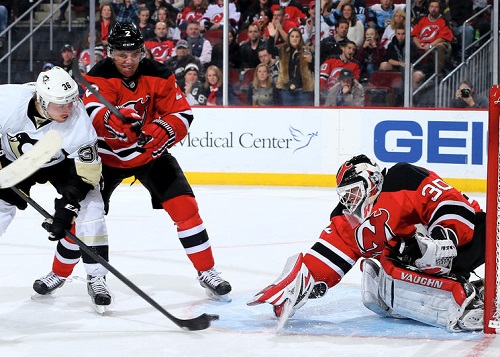 The Devils played their best week in hockey so far this season as they won two out of three, including victories over the New York Rangers and the Pittsburgh Penguins. But even in the game they lost to the Los Angeles Kings, the Devils looked solid overall, and as they enter their West Coast swing this week, they must find a way to build on the momentum.
Goalie Martin Brodeur has played a monstrous role in New Jersey's turnaround, stopping 97 of 100 shots faced in his past four starts. He also recorded back-to-back shutouts as New Jersey beat the Philadelphia Flyers, 3-0, followed by a 5-0 rout of the visiting Nashville Predators.
The Devils, meanwhile, tallied seven goals from five different players in their three games last week, yet again spreading the wealth of goals but this time doing it across both offensive and defensive players.
Forward Ryan Carter tallied two goals against the Rangers – the first time doing so since April 2011 – while forward Dainius Zubrus buried the gamewinner off his own rebound that surfaced from a ridiculous pass from Jaromir Jagr to Travis Zajac from the neutral zone.
Any win over the Rangers is a clutch win, but this one in particular really felt like the Devils returned to their style of play, having potentially turned a leaf on this season. Picking up their first of the week's two Metropolitan Division wins on the road at Madison Square Garden feels pretty dang good, too.
After dropping a 2-0 loss to the visiting Kings on Friday, New Jersey bounced back against the Penguins on Saturday, benefiting from goals from defensemen Andy Greene and Adam Larsson – the latter's first goal in almost two years, mind you – plus two from Jagr, including one empty netter.
The Jagr-Zajac-Zubrus line has grown into one of the most prolific lines for New Jersey this season as the three forwards have combined for 30 points on 12 goals and 18 assists.
Additionally, forward Patrik Elias made his return to the ice after missing six games due to upper body soreness. He didn't score any points in his two games last week but his presence is unquestionably excellent for New Jersey.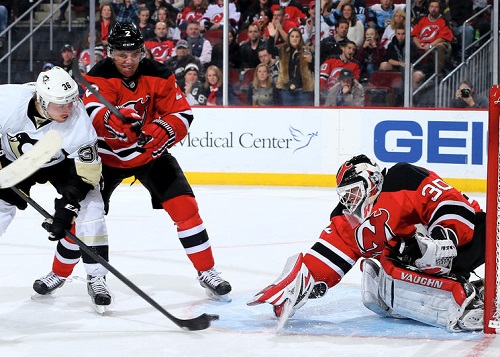 Looking back at the other end of the ice, Brodeur didn't have a good start to the 2013-14 season at all – he went 2-3-2 in his first seven games, allowing 19 goals on 170 shots (.888 save percentage) – but he's bounced back really nicely, as anticipated. At least as anticipated by me; I've had to defend him quite a bit which is to be expected based on how old he is, that the Devils signed Cory Schneider, and so on.
But, clearly, he's still got it.
He's 4-0 in his last four starts and has improved his goals against average to 1.98, a tally that ranks him 12th in the league.
As I've always said (and will continue to say), stats don't tell the whole story. Marty's play as of late has felt like vintage Marty: making saves that leave you wondering how he anticipated the shot, how he could see the puck, creating offense from his puck handling.
Brodeur's role becomes particularly important as defenseman after defenseman drop like flies. Devils captain Bryce Salvador hasn't played since Oct. 22 against the Columbus Blue Jackets due to a combination of a personal matter followed by sustaining a fractured foot. Rookie Jon Merrill made his NHL debut on Nov. 3 at the Minnesota Wild but he suffered a face laceration and hasn't played since, although he skated before Friday's game. Anton Volchenkov is day-to-day with lower body soreness following an awkward run-in with the Rangers goalpost. In the same game, Eric Gelinas took a puck to the ear and left the Devils with just four D-men in the third period, but thankfully came back to the bench after just a few minutes.
Plus: Did I mention Elias is back? 'Kay, good.
Minus: New Jersey heads out West for a three-game road trip against the Anaheim Ducks (15-6-2), Kings (15-6-1) and San Jose Sharks (13-3-5), all of whom have more than 30 points this season. The Devils have 19. It's going to be a tough trip.