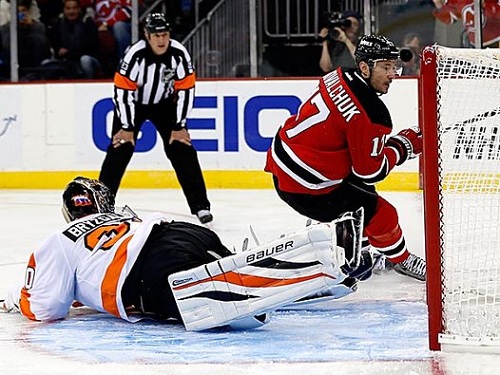 After losing the first two games of the season, Flyers Coach Peter Laviolette knew some changes had to be made in advance of their Tuesday tilt against the New Jersey Devils . Through two games of play, it was evident that some lines were lacking chemistry and Laviolette was quick to make a change. Brayden Schenn didn't seem very comfortable on the first line playing wing alongside Claude Giroux and Scott Hartnell so Jakub Voracek was put in his place. After a magnificent AHL stint, it was expected that Brayden Schenn would make a smooth transition back into the NHL and be a key centerpiece to the Flyers offensive attack. Early on, Schenn seemed a little out of place on that top unit and the first line didn't perform at the level that was expected. In a shortened season, coaches can't have the patience to wait and see if something pans out so Schenn was moved back to being the third line center in advance of Tuesday's game. Unfortunately, altering the lines couldn't put an end to the Flyers team struggles.
Everybody is well aware of what happened in last year's playoffs. The Flyers were dominated by a Devils team that was motivated and determined to get by the Broad Street Bullies. New Jersey shut down an elite power-play and exploited all of Philadelphia's defensive weaknesses. It only took 5 games and the Flyers could no nothing but hang their heads. Tuesday was a chance for the men in orange to get some revenge and prove that they are a different team. All the proper motivation was in place for Philly to get their revenge but once again, the Flyers came up short.
One of the main issues for Philly has been there inability to win the first period. In both of their two games, they put themselves into a hole early and could never recover. The Broad Street Bullies are known for making comebacks but that is risky hockey and it hasn't worked so far for the team. It was the same issue Tuesday when the Flyers found themselves already down by two after the first frame. Devils newly signed forward Travis Zajac put the Devils on the board early when he put in a juicy rebound by Ilya Bryzgalov off a Bryce Salvador point shot. The Flyers played pretty solid after the goal and were outplaying the opposition. Scott Hartnell was one Flyer who had a point blank opportunity robbed by Broduer. Marty was stellar though and the Flyers couldn't get one by him despite several power-play opportunities. Philadelphia's bad luck struck though with 25 seconds to go in the first frame when David Clarkson scored on a wrap around on the power-play. Bryz had lost his stick and couldn't get the paddle down to prevent the puck from squeaking in between his legs. The Devils only had three shots after the first period and scored on two of them.
The Flyers fate didn't change in the second period. After a fast start to the period, a power-play opportunity went awry when Ilya Kovalchuk found himself on a shorthanded breakaway. Kimmo Timonen had no choice but to trip him and force a penalty shot. Kolvachuk is one of the scariest players in the shootout and he made no mistake on Bryzgalov as he faked to the forehand and tucked it top self on the backhand. Things also turned nasty in the period as Wayne Simmonds got up to his usual business when he bumped into Martin Broduer and generated some rough stuff in front of the net. The event failed to inject much life into the Flyers and just transpired to some roughing minors for both teams.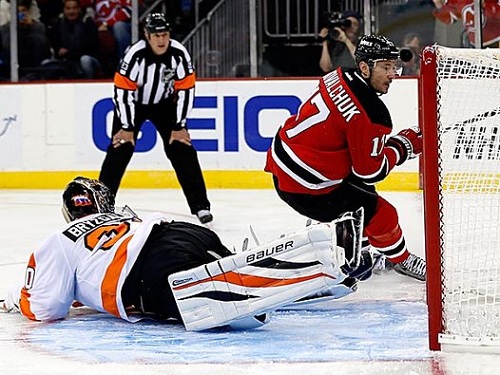 Things didn't turn around in the third period as more frustration led to more penalties. Claude Giroux showed his anger with a useless slash that put the Devils on the power-play as the focus turned to physicality instead of scoring goals. Wayne Simmonds got into a scrap with David Clarkson as he showed why he is such a fan favourite in Philly. Brayden Schenn took some some anger out by scrapping Steve Bernier. Philly couldn't put anything by Broduer who played a fantastic game but we must also credit the Devils defence. They completely turned down the Flyers offence in the third period and brought back memories of last year's playoffs.
Game Observations:
The Flyers gave up another power-play goal today which means they have now given up 6 power-play goals through just three games. This is a very worrying stat for any Flyers fan as they know the penalties aren't going to come to a halt anytime soon.
Ilya Bryzgalov seemed to have difficulty controlling his rebounds. The opening goal was off a very juicy rebound and Bryz seemed to be giving them out all night. While his play does seem improved from last season, he still needs to work on this part of his game. A lot of the goals scored nowadays aren't the prettiest ones as players are always driving to the net looking for those garbage goals.
The Flyers have not played as bad as there record may suggest. They have been getting their chance but just can't capitalize. The other issue is any mistake they make ends up in the back of their own net. Whenever they almost score at one end, a bad defensive play ends up leading to goals against. It is very frustrating to watch but the team has to stick with it if they hope to turn this season around.
The power-play has been an absolute disaster. Only one goal on the year so far and it seems out of sync. The units can't lose their confidence now or else the team will end up faltering. There is way too much talent not to succeed. A problem the power-play is having is that they are over thinking it and not making simple plays. The frustration has set in and they are trying to make the pretty plays. They need to get back to just putting pucks on net and generating traffic.
The Flyers are off to a brutal start but fans shouldn't be overly concerned yet. While there are concerns, there have been some good things and panic shouldn't settle in quite yet. The team never lost three in a row in regulation last year but that doesn't mean they won't be able to turn it around. The New York Rangers are another elite team experiencing similar struggles and we can look to that for some assurance. A bright spot for the Flyers is that Daniel Briere skated this morning and could be ready to go for the weekend. He won't necessarily be the savior for the team but he will definitely give a big boost to an offence in need.