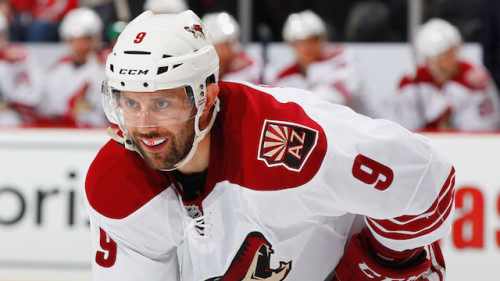 He's been a member of the Edmonton Oilers, Tampa Bay Lightning and Arizona Coyotes over the last two years. Now he's a Philadelphia Flyer.
When the Philadelphia Flyers acquired Sam Gagner and a conditional 2016 or 2017 draft pick from the Arizona Coyotes in exchange for Nicklas Grossmann and the contract of Chris Pronger in late-June, many were simply impressed by the fact Philadelphia got rid of a contract and an aging defenseman who's never surpassed 14 points in his career. The 25-year-old Gagner sort of got lost in the shuffle, with there being talk the Flyers might have made the move with the intent of buying him out.
That wasn't the case, as the Flyers held onto the centreman and feel he can make an impact this season. "We think Sam is a nice fit", said GM Ron Hextall. "We did our homework, we did our research, and everything came out good, so we feel good about Sam. It upgrades the skill level of our team."
This appears to be an ongoing trend with the Philadelphia Flyers. Giving young players at dead-ends in their careers another chance to prove themselves. Take Michael Del Zotto as an example. The young defenseman had been traded to the Nashville Predators earlier in the 2013-14 season after seeing his production drop off significantly with the New York Rangers. He managed just five points in 25 games with Nashville and earned himself the nickname "Michael Del Zaster". At the end of the season, he was an UFA and nobody wanted him. He was going nowhere fast. He posted just 16 points and a minus-9 rating in 67 games split between New York and Nashville that year.
The Flyers saw something in him. They saw a 24-year-old offensive defenseman who was just two years removed from a 40-point season. What could go wrong in giving this young man a cheap one-year deal so he can have the opportunity to prove himself and silence the critics? It was a low-risk/high-reward situation. And it paid off big time. Del Zotto matched a career-high with 10 goals and racked up 32 points in 64 games in his first season with the Flyers. It goes beyond his stats, though. Del Zotto came to Philadelphia with the fans rooting for him to do well. They wanted to see him succeed. They believed in him. Sometimes that's all it takes. He was no longer in an environment where people wanted him benched or taken off the ice.
There is that same type of feeling around Gagner one year later. The former Oiler will earn $3.2 million this season in the final year of his contract. A low-risk/ high-reward situation. He's coming off a season in Arizona where he managed just three goals in his first 32 games. Gagner would recover to post a 15-goal, 41-point campaign, but with a lacking minus-28 rating and inconsistent play, it's fair to say he wasn't a good fit with the Coyotes. There is potential, though, for Gagner to be a high-impact player on a different team. That team being the Flyers.
He's already been in the NHL for eight seasons and has managed to score at least 15 goals in five of those years. He's also hit the 40-point barrier in all but two of those eight seasons. This is a consistent producer who has good offensive instincts and knows how to put the puck in the net. Of course, there was also that eight-point night a few years ago. But you already knew about that.
It's unclear whether he'll play on the wing or in the middle or if he'll be a top-six forward or slot in the bottom-six, but he will be a difference maker. Gagner managed 41 points last season. Only five players on the Philadelphia Flyers had more in 2014-15. What's intriguing about the Gagner acquisition is how he will fit on the Flyers' power play. Once again, Philadelphia had one of the best power plays in the league last season. Led by Claude Giroux and Wayne Simmonds, the Flyers lethal man advantage is driven by fantastic puck-movement, solid positioning and great chemistry. That goes for the first unit. The second unit is a bit of a mess and has been for some time. Could Gagner be the key to getting the second unit back on track? Unofficially, the Flyers second power-play unit didn't even score 10 goals last season. RJ Umberger, Matt Read, Michael Raffl, Vincent Lecavalier and Sean Couturier are the main men that make up that second power-play unit. Not too appealing, right?
Enter Sam Gagner. The 25-year-old has scored six power-play goals in four of his last six seasons, including his most recent campaign with Arizona. He's got good vision and can distribute the puck very well. His soft hands and good playmaking ability make him a great asset with the man advantage. With Giroux, Simmonds, Jakub Voracek, Mark Streit and Brayden Schenn currently locked in on the first unit, we'd be looking at a second unit potentially consisting of Gagner, Read and Couturier up front, with Lecavalier and Del Zotto on the points. That sounds dangerous.
Gagner is an offensive stud who will give a big boost to the Flyers offense this season. Aside from Giroux and Voracek, do the Flyers really have gifted offensive players who can distribute and handle the puck at an elite level? Couturier is getting there. Simmonds and Raffl can pile on goals, but Gagner brings that extra element of craftiness.
Not only will Gagner boost the power play, but he will also help the Flyers with something they have been struggling with for a long time. That being the shootout. Since shootouts were adopted in 2005-06, the Flyers are 30-60 in them for an awful 33.3 winning percentage. Things have been looking up with Simmonds and Voracek finding success in the skills competition, but it still isn't enough, especially when you consider that your all-star captain just can't get it done in the shootout, going 1-12 last season. Gagner is a proven shootout performer who uses his nifty hands and creativity to terrorize netminders.
Gagner brings that element of confidence in the shootout. When the Flyers get to the skills competition, it's a running joke that the game is probably over. Not anymore. They can send out Gagner with the expectation that there is a strong chance he will score.
Drafted sixth overall by the Edmonton Oilers in 2007, Gagner has averaged 0.59 points per game through the first eight years of his career. The 25-year-old is a proven offensive performer who lit up the OHL with 118 points in just 53 games in 2006-07. He's a guy who entered the NHL at age 18 and put up 49 points in his first season. That stands for something. He played all over the place in Edmonton, including in his 18-goal campaign in 2011-12, where he skated between a variety of different players including Ales Hemsky and Shawn Horcoff and Taylor Hall and Jordan Eberle.
Gagner is hungry to prove the doubters wrong. He's 25-years-old and has been gifted with great offensive instincts. The fans in Philly believe in him and are eager to see what he can do in a new environment. And if things don't go according to plan? Hey, it's a one-year deal. Can't really go wrong here.