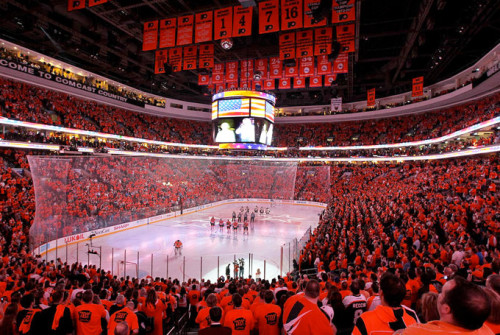 The Philadelphia Flyers were powered by one of the league's top duos in Jakub Voracek and Claude last season. The two superstars both finished among the top-10 NHL scoring leaders, but it wasn't enough, as the Flyers finished sixth in the Metropolitan Division and failed to make the playoffs.
While the Flyers are loaded up front with players such as Giroux, Voracek, Wayne Simmonds, Matt Read, Brayden Schenn and Sean Couturier, they failed to make the playoffs in 2014-15 because of defensive struggles and a lack of scoring depth.
Steve Mason was a rock in goal in his second full year in Philadelphia. Ever since joining the Flyers in 2013, Steve Mason has been one of the best netminders in the NHL. Every game he played in this season, Mason was arguably the team's best player on the ice. He finished with a whopping .928 save percentage – third best in the NHL. His 2.25 GAA was seventh-best in the NHL, which is spectacular considering Mason missed time due to injury and still faced a whopping 1,490 shots.
The 26-year-old, who hasn't even entered his prime, was remarkably consistent throughout the year, allowing over four goals just twice in 51 games played. The Flyers needed a backbone in goal. They need a guy who doesn't crack under the pressure or suffer epic meltdowns. Mason is that guy.
While the Flyers missed the postseason, GM Rox Hextall didn't go too crazy in the offseason. Instead of making a big splash, he made a few smart moves, replacing coach Craig Berube with NCAA coach Dave Hakstol. Hextall also traded for center Sam Gagner and gave a one-year, $3-million contract to longtime KHL veteran D-man Evgeni Medvedev.
2014-15 Stats:
Last season record: 33-31-18, 84 points, 6th in the Metropolitan Division
Goals for: 211 (21st in NHL)
Goals against: 223 (21st in NHL)
PP: 23.4 per cent (3rd in NHL)
PK: 77.1 per cent (27th in NHL)
Corsi for per 60: 53.7 (21st in NHL)
Projected Lines:
Michael Raffl –Claude Giroux-Jakub Voracek
Brayden Schenn -Sean Couturier -Wayne Simmonds
Vincent Lecavalier- Sam Gagner- Matt Read
Pierre-Édouard Bellemare -Ryan White- Chris VandeVelde
Mark Streit – Nick Schultz
Michael Del Zotto – Luke Schenn
Radko Gudas – Brandon Manning
Steve Mason
Michal Neuvirth
Key Additions:
Michal Neuvirth, G – Signed to a two-year contract by the Flyers in the 2015 offseason, Neuvirth now becomes the new backup for starting goaltender Steve Mason. While Neuvirth posted a lackluster 7-20-4 record split between the Sabres and Islanders in 2014-15, the 27-year-old still recorded a solid .914 save percentage. With Mason hoping to play around 60-65 games in 2015-16, it's likely you'll see Neuvirth play 20-30 games in his first season with Philadelphia. The former Capital has managed just seven shutouts in 168 career NHL starts, but he's sporting a .912 career save percentage and can provide reliability and stability in a backup role.
Sam Gagner, C – Traded to the Flyers from the Coyotes in late-June in exchange for the contract of Chris Pronger and defenseman Nicklas Grossmann, Gagner is getting a fresh start with an offensively talented hockey team. While the 26-year-old has been a part of the Oilers, Lightning and Coyotes over the past two years, he's a gifted playmaker who has managed 336 points in 562 career NHL games. Coming off a 15-goal, 41-point season with Arizona in 2014-15, Gagner, who has scored six power-play goals in four of his last seven NHL seasons, will give a big boost to the Flyers second man advantage unit. It's unclear where he will play at even strength, but Gagner possesses tremendous offensive instincts that should land him in the 40-point range. The former 18-goal-scorer was in need of a fresh start and will get the perfect opportunity to prove any doubters wrong in Philadelphia.
Evgeny Medvedev, D – Medvedev has 165 points (37 G, 128 A) and a +100 rating in 373 career games with Kazan Ak-Bars plus two titles over the span of seven seasons, 16 points (3 G, 13 A) in 43 games last year.The 6'3″ 187 pound Russian was one of two KHL defenseman on the Olympic squad, which didn't medal in Sochi. Yevgeni had one assist and a +2 in five games during the tournament. Medvedev is a large and mobile defenseman who is reliable definitely, but he can also step up into the rush. He should be a key contributor on the Flyers' second power-play unit.
Impact Prospect:
Travis Sanheim, D – Perhaps the best positive from Flyers 2014-15 season didn't even come from the actual Philadelphia Flyers. Prospect Travis Sanheim had a season for the ages in the WHL, leading all defenseman with a whopping 65 points in 67 regular-season games. He's been a machine in the playoff as well, leading all WHL defenseman with 18 points in 16 playoff games thus far. Playing for the Calgary Hitmen, the 19-year-old is looking like a rock-solid offensive defenseman who is extremely reliable at both ends of the ice. He knows when to join the rush and when to hold back. His terrific vision allowed him to rack up 50 assists and be a dominant force on the power play. The 6'3, 184 pound blue liner is a terrific puck-moving defenseman who reads the play very well. His plus-52 rating over two seasons with the Hitmen indicates his value goes way beyond piling up points. The 19-year-old is very intelligent and a smooth skater; qualities that make him very good at breaking up plays and odd-man rushes. While he will need to add muscle to his tall and lanky frame, the rising youngster looks to be a key part of the Flyers' blueline in the future and could contribute greatly to solving the team's longtime woes on defense.
2015-16 Outlook:
The Flyers should have another strong offensive season powered by superstars Giroux and Voracek. The 27-year-old Giroux notched 73 points in 81 games last season – 10th most in the NHL. He fired a career-high 279 shots on goal and was an absolute monster on the power play, scoring a career-best 14 power-play goals – third most in the league. His terrific vision and lethal shot has made him a dynamic two-way threat with the man advantage and he's arguably become the best power-play quarterback in the NHL. Giroux, who found great chemistry with Voracek this season, is showing no signs of slowing down, having recorded at least 25 goals in each of his last four full seasons with the Flyers.
Voracek, meanwhile, emerged as one of the leagues' best player last season, notching 81 points – fifth most in the NHL. His 59 assists were next to only Nicklas Backstrom of the Washington Capitals, while his 11 power-play goals were 11th most in the NHL. After reportedly dropping 10-15 pounds in the 2014 offseason, Voracek entered training camp faster and more agile. He was still impossible to knock off balance this season, using his 6'2" 215 pound frame to shield and protect the puck. Voracek was so consistent this season that he never went three games without recording a point. He was a factor every night and recorded a point on 38 percent of the Flyers 212 goals scored this season. The Flyers finished with the third-best power-play percentage in the NHL, with Voracek playing a huge role. Playing the point on the lethal first power-play unit, Voracek racked up a career-high 33 power-play points, helping the Flyers power play operate a whopping 23.4 percent success rate.
The Flyers will also be led by clutch performer and second-liner Wayne Simmonds. While Simmonds' 28 goals were an accomplishment in itself, it's the way in which that he scored them in that makes it all the more impressive. Simmonds scored a career-high six game-winning goals this season and went 4-for-7 on shootout attempts, establishing himself as a clutch hockey player. Some players crack under the pressure. Not the Wayne Train.
With Giroux, Voracek and Simmonds running things up front and Mason in the cage, the Flyers are in capable hands this season.
2015-16 Projection:
The Flyers are loaded with offensive talent and have found a reliable goaltender, but a shaky blueline makes it hard to project them making the playoffs. Fifth in the Metropolitan Division.