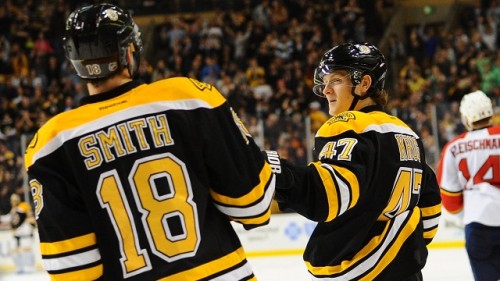 Bruins fans seemed to have had it pretty rough these past few months; from injuries and trades to just flat out losses. So naturally, it's nice to hear some good news every now and again so you know, they can lift our spirits up before comPLETELY TEARING US DOWN AGAIN.
But I digress.
With that being said –
Defensemen Torey Krug and Right-Wing Reilly Smith have both been signed to brand-spakin' new contract extensions! It brings me much joy to see Peter Chiarelli actually doing his job from time to time instead of devouring the souls of desperate, helpless, Bruins fans such as ourselves (that's right Peter, we haven't forgotten about Boychuck you goddamn monster).
Krug has signed his name in black-and-gold blood to a 1-year contract extension with a cap figure worth $3.4 million and Smith has been extended to a 2-year contract with a cap figure worth $3.425 million.
Both 23-year-olds have played three pro seasons in the NHL with this being only their second full season (flashbacks to the Lockout of '12).
"These are two good, young players," Peter Chiarelli told the press at a conference held this past Friday. "These are players we've always liked, they have a bright future for us."
In total, Krug has played 147 NHL regular season games, earning himself 25 goals, 48 assists, and 73 points with a plus-23 rating.
Our feisty – but cuddly – little bear of a defenseman has earned some serious brownie points being able to play offensively while maintaining a strong defensive presence in front of the net (#hollaback). "It's progressing better and can only get better, as long as I stay on top of it and work with the coaching staff and just go from there."
Reilly Smith has 185 NHL regular season games under his belt, notching 35 goals, 60 assists, and 90 points.
Both Peter Chiarelli and the Bruins coaching staff have a lot of confidence in what Krug and Smith can produce in the games to come and give the team that extra spark they need.
These two Boston-dreamboats are exactly what the B's are going to need if they want to push past Washington in the playoffs and keep their wildcard position. With 16 games left in the regular season, it's most definitely go-time. Get ready for the stress levels to go through the dang roof.
The Florida Panthers are 4 points behind the Bruins as of right now. They need to be able to keep their momentum going from this past weekend if they want to get anywhere.
All that's left to do now is sit and wait for the madness to unfold. We're with you till the end of the line.