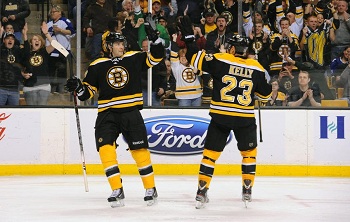 Lately it's looked like the Stanley Cup Champs needed a little confidence boost, and their final regular season meeting with Toronto came at a good time. After the Bruins won their St. Patrick's game against rival Flyers 3-2 in a shootout, they were ready to take on the Maple Leafs in full force. This season the Bruins outscored Toronto 36-10, and with an 8-0 victory at the Garden last night they swept the season series.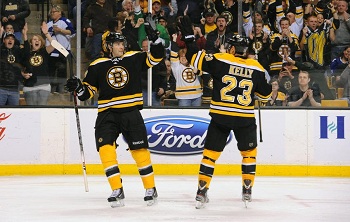 Boston led 4-0 just 13 minutes into the game. The Bruins offense, in particular the third line of Pouliot (who scored two goals), Rolston (with three assists), and Kelly (one goal and one assist), were playing aggressive all night. Kelly began the scoring with his 17th goal of the season 2:25 into the game; Pouliot passed the puck from the left corner to Kelly, who backhanded it past Reimer from just in front of the crease.
This game was all about the first period, and luckily the Bruins rode that momentum until the final buzzer. Even after Chara's power play goal at 5:45 in the second, the boys continued to skate hard. Defenseman Dennis Seidenberg played a strong game, and of course I can't leave goaltender Tim Thomas unmentioned. This was the fifth shutout of the season for Thomas. Thomas had to make only 13 saves last night, the fewest shots allowed by the Bruins since they gave up 13 to Pittsburgh on April 13, 2002.
It was certainly an exciting game to watch, unless you were wearing a Leafs jersey. And Boston fans did well keeping the energy levels high, a rough task considering St. Patty's was Saturday, followed by the parade Sunday here in Drunkest City in America. The Garden was booming with chants, including fan favorite "Thank you, Kessel!" after Seguin's goal in the third.
Hopefully these last couple games are an indication that the Bruins are feeling strong and ready for playoffs. Currently Boston is second in the Eastern conference, sitting with 87 points.Coach Claude Julien said the challenge of the upcoming road trip will be to maintain what the team's done recently against desperate teams out West. Bruins just released a statement as well that Rich Peverley skated at practice this morning and looks good to join the team on the road.