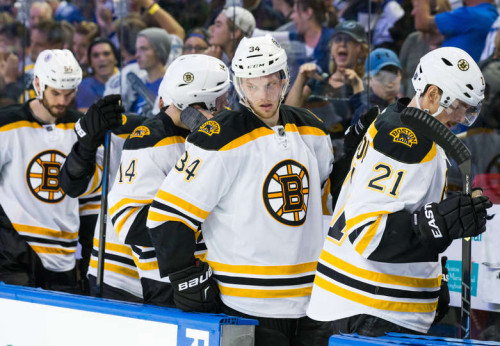 We all knew that the day would come; the day when the mighty and righteous Boston Bruins fell to their knees in a not-so-hardly-fought fight to scrape by and make it into the Stanley Cup Playoffs. Putting on the back nine is coming early for these fellas this year.
Heartbreak and despair plague the team's fan base across the nation – with cries and heavy sobs echoing through Hockey Heaven as a never-ending reminder that it is indeed true that the bigger you are the harder you fall.
Fans and players alike have little to no idea what is going to happen next (aside from the imminent crushing of all our hopes and dreams, but I digress).
The only thing that can be expected out of this little mishap is Tuukka Rask clocking some major time in anger management to keep from throwing milk crates at the team like some kind of giant grenade launcher.
That's why we're here to break it down for you and *hopefully bring you some piece of mind as the dark, ominous cloud of offseason approaches.
WHERE DID WE GO WRONG?
Peter Chiarelli.
If there is any one person to even remotely begin to place the blame on (aside from the team as a whole) it is that man.
Between not re-signing bloody-knuckled Shawn Thornton and giving away papa bear Johnny Boychuck to the Islanders for draft picks like damn candy on Halloween, the team's soul failed; the spark that made the Bruins who they are not just as a hockey team, but as a family, diminished.
Sources claimed locker room chatter all but vanished. The motivation was gone. The chemistry was gone. Yes, the Boston Bruins aren't just a team but a business, but there are consequences for being power and money hungry savages.
Coach Claude Julien desperately tried all season to mix and match lines in order to find that one sweet spot to get the goals pouring in again, but the scoring just wasn't happening. Defensive power varied game-to-game, usually leaving fan-favorite goaltender Tuukka Rask to fend for himself. The domino effect completely took hold of the team. Cardiac arrest ensued. The heart failed.
Who is safe?
This upcoming offseason poses a lot of threats to this years unrestricted free agents as they try to prove themselves yet another contract in the seasons to come.
Forwards Daniel Paille and Gregory Campbell had, let's face it, a pretty lackluster season without producing much since the Great Cup Run of 2013. General Manager Peter Chiarelli has decided not to have them signed on for next season.
That leaves defensemen Adam McQuaid and Matt Bartkowski and forward Carl Soderberg left. The safest on this list is the great and mighty one-eyed Swede who this past season racked up 13 goals, 31 assists, and 44 points with a plus 10 rating. I play like Carl.
As much as we love our rough and tough brute, Adam McQuaid, it's no secret that his bones are made of glass. McQuaid was out for the majority of the 2014-2015 season with stats that do not exactly shine: 1 goal, 6 assists, 7
points, and a minus 2 rating. Yeesh.
Matt Bartkowski – where to even begin. That boy must have been blessed with the grace of God to have even been signed on to come back last season, never mind 2015-2016. He's a Bruin, so you have to like him a little bit, but that stats do not lie. Bartkowski wowed B's fans with his 0 goal, 4 assist, 4 point, minus 6 rating in the 47 games played this season. Double yeesh.
Smart, young hobbit Torey Krug, B-Town dreamboat Reilly Smith, and the adorable ginger man-child Dougie Hamilton cap off our line-up of restricted free agents for this upcoming offseason.
Both Smith and Krug were signed on to matching one-year contracts last year worth $1.4 million each (#twinning). Over the course of the season, Krug scored 12 goals, 27 assists, racked up 39 points, and ended with a plus 13 rating.
This season for 24 year old Reilly Smith was a bit of a roller coaster with the forward only managing 13 goals, 27 assists, 40 points, and a plus 7 rating. Not the best, but certainly not the worst.
Either way, you should be expecting these two back in Boston next season to *hopefully help bring The Cup back home.
Fan-favorite and defenseman superstar Dougie Hamilton should also be expected back in Boston next year, whether he's truly concerned with a shiny new contract to sign in blood with or not. Hamilton's main concern right now is healing up that rough undisclosed upper-body injury (rumored to be his ribs, ick) and getting back on the ice as soon as possible.
Out of the 72 games he played, Man-Child scored 10 goals, 31 assists, 42 points, and finished up the season with a minus 3 rating. But that's okay.
Fans should also expect to see forwards Chris Kelly and Loui Eriksson on the chopping block, as well.
What's going to happen next?
Peter Chiarelli and a major portion of the Bruins management team are going to be out of a job real quick.
Cap space is going to be cleared to make room for some important re-signs.
Major trades are going to go down.
Hopefully young, new, faces will crop up on the team roster.
We might see a new team captain in our sort of-bright future.
Tuukka's going to have some therapy.
And in my dreams, we get Johnny Boychuck back.
Stock up on some therapy ice cream and tissues, folks; it's going to be one hell of an offseason.
Love Reading About Hockey?

Subscribe to keep up-to-date with the latest and most interesting hockey news!
| | |
| --- | --- |
| | We hate spam just as much as you |