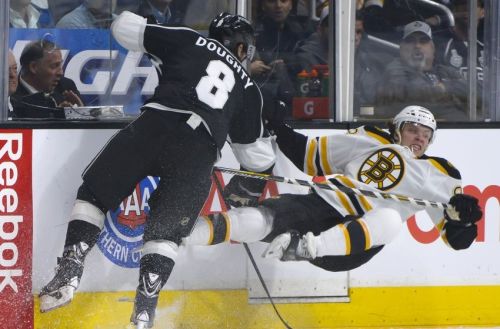 Can you feel it?
No. Not "Christmas Spirit". Get those sleigh bells out of my face.
Yes. I have been a Scrooge, and with good reason! Bring me a win against Chicago and then we can talk.
Yeah, no. I'm talking about the faith in our boys in the Black and Gold being restored – and rightfully so!
Even though the B's are still lacking some major defensive players such as Adam McQuaid and Zdeno Chara (who I'm pretty sure up and left it to God-Knows-Where) the Bruins are doing an excellent job with what they have out on the ice with Seth Griffith stepping up to fill in some big goal-scoring shoes.
After a pretty rough road trip deep into Western Conference territory, the B's managed to pull out a hefty win against the Arizona Coyotes of 5-2. After three consecutive losses to Anaheim, Los Angeles, and San Jose, the Bruins needed more of a pick-me-up than a few shots of whiskey could do after a bad breakup.
Even though they continue to cause major cardiac-arrest inducing stress on us, we still love them.
"We really wanted this win and we showed it," Goaltender Tuukka Rask told the press after last night's game, "[We] battled for every puck, and backchecked, forechecked, skated, did everything we needed to do to win … Big win."
Saturday night, Rask stopped a total of 24 out of 26 shots on net, earning himself the title of Second Star of the Game *Fergalicious plays softly in distance*.
Forward Brad Marchand has been wiggling out of his funk over the past few games, scoring the first goal of the night just 58 seconds into the game which was exactly the sort of spark the B's had been needing after giving up their 2 goal lead to San Jose. Fire is catching.
"We've really got to be happy with our effort [tonight]. We played within the system and it was one of our better games we've played in a while," Marchand stated after asked about the win.
But Marchy isn't the only one who's been really stepping up his game over the past few weeks. Forward Reilly Smith and Defensemen Dougie Hamilton have had their fair share of contributions to wins within the past month.
Out of the 28 games Hamilton has played, he's already scored 5 goals, tagged along on 12 assists, and landed himself 17 points with a plus 2 rating. Reilly Smith has scored 6 goals, 8 assists, with 14 total points and a minus 1 rating.
It's nice to know that The Bruins are finally finding their skates on the ice once more and getting into their Rough-and-Tough style of play; We haven't seen it in quite some time.
Road Trip Summary
Goals: Anaheim, 2; Los Angeles, 0; San Jose, 4; Arizona, 5
Saves: Anaheim, 25 (Rask); Los Angeles, 33 (Svedberg), San Jose, 37 (Rask), Arizona, 24 (Rask)
Penalties: Anaheim, 3; Los Angeles, 4; San Jose, 5; Arizona, 4
Key Players: Dougie Hamilton, Brad Marchand, Reilly Smith
The Week Ahead
12/11/14; Chicago Blackhawks, Home
Chicago is currently first in the Western Conference (wow, no surprise there) with 18 wins and 37 points; Speed Team
Key Players: Patrick Kane, Jonathan Toews, Kriss Versteeg
Our Game Play: As much traffic as possible in front of the net, watch for turn-overs, better defensive coverage
12/13/14; Ottawa Senators, Home
Ottawa is currently seventh in the Eastern Conference with a total of 10 wins and 25 points; Defensive Team
Key Players: Erik Karlsson, Clarke MacArthur, Kyle Turris
Our Game Play: Be hard on puck, minimal turn-overs, defensive power-plays
Now that's all that's left to do is see if Saturday night's win will build up the B's ego a bit too much, leading to slopping game play against the Chicago (BIG NO-NO. DO I NEED TO BRING UP GAME 6 AGAIN? NO? DIDN'T THINK SO.) and Ottawa.
Not to mention the trade rumors buzzing around the twitter-verse about Edmonton's Jordan Eberle and a package deal possibly involving Reilly Smith (which would be the absolute stupidest move he could make aside from Boychuck) and Malcom Subban quite literally Shipping off from Boston.
We are definitely going to need some heavy prayers sent up to the hockey gods above.
Next time on: What Idiotic Thing will Peter Chiarelli do This Time?