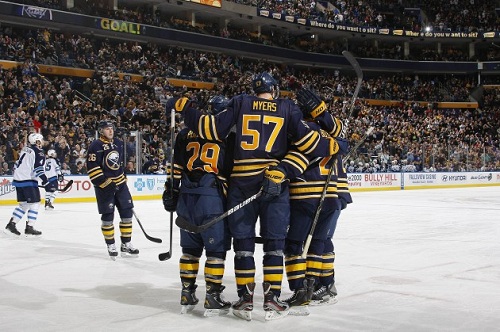 As I write this article, I can't help but think this article would and should have been written back in early October. However, owners and players kind of, I mean did hold up the season. I am just as happy as the next die-hard NHL fan that the lockout is over. It will be a mad sprint to the playoffs with a 48 game season. One or two bad weeks could cause a team to not have a chance at Lord Stanley. Here is a preview of this season's Buffalo Sabres.
Forwards:
The Sabres will have a mix of veterans and youth in the lineup this season. Captain Jason Pominville, who played in Europe during the lockout, looks to keep up his scoring ways as he had 30 goals last season. Thomas Vanek must bounce back as he had only 26 goals last year and is one of the highest paid players on the team. Most likely, the dynamic Tyler Ennis will center these two players. Perhaps the most interesting line on the team is the Marcus Foligno, Cody Hodgson and Drew Stafford line.
This was one of the hottest scoring lines as the season was ending last year. Foligno had 27 points (10g-17 a) in 33 games for the Rochester Americans this season before being called up for training camp. Steve Ott and the 6-8 John Scott were brought in for toughness and grit. (Which the Sabres lacked after the whole Boston fiasco last season) Both Ville Leino and Nathan Gerbe need to have better seasons as well. Leino had 8 goals in 71 games last year while Gerbe in an injury riddled season had 6 goals in 62 games. Buffalo area native Patrick Kaleta grinds out every game and is a very energetic player. 2012 1st rd. pick Mikhail Grigorenko may have a decent chance at making the team due to the lack of scoring depth at center and his strong play at the World Juniors.
Defensemen:
Christian Erhoff and Tyler Myers will lead the Sabres defensemen for another season. Erhoff had a rough first year in Buffalo and was not as effective on the powerplay as he was in Vancouver. Myers sustained an ankle injury during the lockout but claims he is all healed. If these two can perform better then it will certainly help Buffalo's chances in all departments. Alexander Sulzer looked solid when he came over with Hodgson in the Zack Kassian deal. Andrej Sekera, Robyn Regehr and Jordon Leopold are slated to be in the top 6. What will be interesting is to see what the Sabres do with T.J Brennan. Brennan is having an awesome season in Rochester (AHL) and leads the team in scoring (12g-20a). If Brennan does not make the team, he would have to clear waivers before returning to Rochester. In my opinion, you should keep Brennen and part ways with Mike Weber.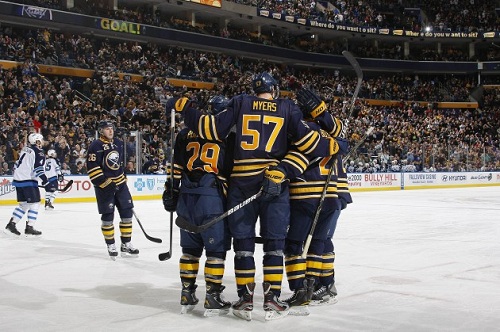 Goalies:
This is Ryan Miller's team and he will be expected to carry the workload once again. It doesn't seem possible but it already has been a few years since he won his first Vezina Trophy as the league's top goalie. Miller was not quite himself last season due to a concussion sustained against Boston last year. Nonetheless, he had 6 shutouts and 31 wins. Jhonas Enroth will back-up Miller again this season. Enroth was named to the NHL All-Rookie Team last year. Enroth is a capable back-up and should see a decrease in time between starts this year.
Outlook:
The last time the Sabres came out of a lockout, they surprised everyone and made the Conference Finals. Could it happen again? Anything is possible. What needs to improve is the Special Teams. The Sabres ranked 16th on the powerplay (17.1%) and 19th on the penalty kill (81.7%). If you are not scoring goals with the man-advantage, then you are squandering great opportunities. Depending on what type of shape the players are in, I think they can squeak into the playoffs as a 7th or 8th seed. Then from there anything is possible.