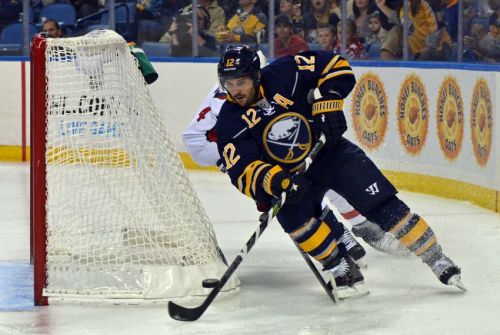 Young talent and hard work. That will be the story of the 2014-15 Buffalo Sabres. They have added veteran leadership as well with the acquisitions of Brian Gionta, Josh Gorges, and Andrej Meszaros, and there are a few returning veterans as well in Drew Stafford, Chris Stewart, Matt Moulson, and Cody McCormick.
Not much is expected of this year's team after finishing the 2013-14 season with a historically bad record of 21-51-10, the worst in the NHL. Some who follow the Sabres would prefer another last place finish, saying the team should concern itself with the 2015 draft and improving that way.
But with the offseason signings and trades made by general manager Tim Murray, who took over as GM in the middle of last season, a new coaching staff, and the attitudes of the coaches and players, tanking doesn't look likely.
Drew Stafford, among others, has made that clear.
"I'm not going to apologize if we're winning games," Stafford said in a preseason press conference. "We're paid a lot of money to do our best and try and make sure that we're improving. Especially after last year for the guys that are still here, last year left a very very sour taste in our mouths, so you don't ever want to be a part of that."
Brian Gionta was the captain of the Montreal Canadiens last season. His contract was up following the season, and he decided to sign with the Sabres instead of re-signing with a team where he spent the past five years of his career. Gionta grew up in nearby Rochester, New York and still has family there, which was a major factor in his decision to sign with Buffalo. He is also excited about the future of the Sabres.
"We're excited for the chance, myself and my family," Gionta said in a press conference just after signing his three-year deal with Buffalo. "Our expectation is to come here and field a winning team. We like the direction that Mr. Murray is going with the team. We're confident that we can come here and be a part of something big."
Josh Gorges was a teammate of Gionta in Montreal and describes Gionta as a "quiet leader" and "the kind of guy you gravitate towards."
Gorges himself came to the Sabres via trade in July. In late June, the Canadiens tried to trade Gorges to the Toronto Maple Leafs, but he refused the trade. However, he agreed to the trade to the Sabres, and it was only partly because of Gionta. Gorges is also excited for the future of the team and the challenges that will come with it.
"I have been on a team like the year that they had last year," Gorges said in a preseason press conference. "Things just didn't go the way they had planned. It's an opportunity and a challenge this year. If I can be a part of that and help move things forward, I think that was another reason [to choose Buffalo]. It's a great challenge and I like that challenge. You want to have something to work towards, and so that was another reason why I wanted to come here."
Gorges is ready to be a leader. He's already giving pointers to the younger defensemen during training camp. And he wants to make it clear that he's here to help.
"I wanna let the guys know that if they do have any questions they can come to me, and I'm always there to help," Gorges said.
He's also well aware of the Buffalo/Toronto rivalry and that he's considered somewhat of a hero for nixing the Leafs trade and choosing Buffalo instead.
"Most people were happier not so much that I chose here but that I didn't choose Toronto," he said with a laugh.
Andrej Meszaros will start his 10th season in the NHL with Buffalo after splitting last year between the Philadelphia Flyers and Boston Bruins. The defenseman is looking forward to a healthy year in Buffalo and said the Sabres were his first choice.
"I think Buffalo is a great opportunity to get back in and improve and prove that I can play every game and play every game hard and be good for the team and be part of the team and winning, obviously," Meszaros said in a preseason press conference. "It was right away the first choice. Tim called me and offered me a contract and I said yes."
In order to prove himself this year, Meszaros says he needs to "stay healthy, compete, work hard every night."
Two of Murray's offseason acquisitions were familiar faces – very familiar faces. After being traded to the Minnesota Wild at last year's trade deadline, both Matt Moulson and Cody McCormick chose to return and re-sign with Buffalo. Both bring experience and leadership back with them, along with the familiarity they already have with the city and team.
When the Sabres lost captain Steve Ott last year at the trade deadline to the St. Louis Blues, they acquired power forward Chris Stewart. Stewart has had two 28-goal seasons and scored 15 for the Blues last season. He only played five games with the Sabres last year due to an ankle injury, but the injury is a thing of the past. His teammates say he worked harder than anyone else over the offseason, and he's become a vocal presence on the ice during training camp. One thing last year's Sabres struggled with was communication on the ice. Stewart, among others, has done his part to fix that. He's also been an offensive and physical presence during preseason games. He's scored two goals, picked up two assists, and fought twice.
And Stewart has high expectations for this season. He doesn't call them expectations though; he calls them standards.
"I think everyone has us in the basement of the NHL, and I don't believe in taking that approach.," Stewart said. "I think we gotta set the bar here, and we gotta aim high. And with the acquisitions we made in the offseason, there's no reason not to think that we can be a playoff team, and that's gonna be the standard here."
The Sabres have several other returning players from whom they can expect good seasons. Among them are last year's team MVP Tyler Ennis, along with Cody Hodgson, Zemgus Girgensons, and Marcus Foligno. Mikhail Grigorenko is fighting for a roster spot along with the Sabres' 2014 first round pick, Sam Reinhart. With less than a week until the regular season begins, the Sabres still have some roster cuts to make.
The goalie situation also remains to be sorted out. Jhonas Enroth and Michal Neuvirth both had their season cut short by injuries last year. Both are healthy now and fighting for the starting role.
Enroth had been Ryan Miller's backup, and he was excited to step forward and prove himself after Miller's trade deadline departure. Neuvirth was acquired from Washington at the deadline, and he'd like to prove himself on a new team.
Enroth has had the more impressive preseason so far, but Neuvirth will likely start the Sabres' final preseason game on Friday, October 3 against Carolina. Preseason game performance isn't the only factor in the goalie decision, of course, and it remains to be seen which player is deemed worthy of the starting role.
What also remains to be determined is who the Sabres will award the C for the 2014-15 season. Could it be new face Gionta, with his quiet leadership? Could it be Stafford, who has been with the Sabres longer than any other player currently on the team and who has stepped into a leadership role?
Stafford speaks to the media as an experienced veteran and team leader. And he's set his expectations high as well.
"Expectations are a lot higher than last year," Stafford said in a preseason press conference. "We're expecting a lot of improvements. We still know that there's gonna be a lot of challenges ahead. We still know that there's gonna be some struggles, but we definitely feel like we're ready to be prepared for the worst, especially after what we went through last year."
Collectively, the Buffalo Sabres hope that that this year's worst is nowhere near last year's. They'll work hard to meet their own expectations. Or standards. Depending on whom you ask.