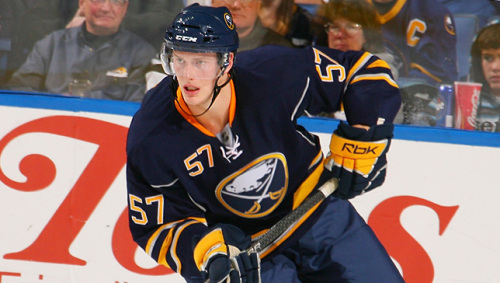 Hope springs anew for the Buffalo Sabres today with the return of Tyler Myers. The Sabres have been without the defenseman since the second period of their December 20th loss to Colorado.
The previous game had been a loss to Winnipeg, but before that the Sabres had put together a four-game winning streak.
Since losing Myers, the Sabres have gone 1-5-1 and have been outscored 31-14.
They tried to shuffle around the defense, including calling up defenseman Mark Pysyk from Rochester, but nothing seemed to work without Myers.
And Myers could do nothing but sit and watch.
"It's always frustrating when you're not playing," Myers said. "A little more frustrating when things aren't going as well as you'd hoped."
However, Myers made it clear that he can't fix the team's problems on his own.
"I'm not gonna be the savior coming in," he said. "We know it's a five-man unit. We know we have to keep goals out and defend well as a team."
Myers feels that progress was made in yesterday morning's practice. Coach Ted Nolan spent a lot of time teaching, according to reporters present, and Myers discussed the practice with reporters afterward.
"Today's practice, we did a lot of work on what we need to do as a group, especially in the neutral zone," Myers said. "Hopefully we can take that into the game tomorrow."
He does understand his value to the team. Myers has a +/- of minus-four this season, better than any defenseman except Pysyk, who's only played in four games. Myers' height makes a difference too, all six feet and eight inches of him.
"Coming back into the lineup, I'm going to help as much as I can," he said. "With my reach, I'm able to provide a good stick out there on the penalty kill."
The penalty kill has not been a bright spot for the Sabres. In the past seven games without Myers, the Sabres have killed just nine of the 19 (47.3%) penalties they've taken. It's another area where each player needs to know his role and where everyone needs to communicate better. One thing Myers has been able to do while not playing is observe.
"It's a matter of being all on the same page, and recently, we've gotten away from that a little bit," Myers said. "It looks like some guys are doing one thing and some guys are doing a different thing on the ice. It's a matter of getting back on the same page, knowing what each guy's jobs are so you can do your own job."
Myers will be reunited with Josh Gorges as the top defensive pairing. Tyson Strachan, who missed some time due to injury himself but otherwise took turns with Myers and Gorges while the other was injured, will be paired with Mike Weber. Rasmus Ristolainen and Nikita Zadorov will continue to shine as the youngest pairing on the team (20 and 19, respectively). Andrej Meszaros and Andre Benoit, both brought in over the offseason, look to be the odd men out.
The Sabres face the New Jersey Devils tonight at 7:00.
Love Reading About Hockey?

Subscribe to keep up-to-date with the latest and most interesting hockey news!
| | |
| --- | --- |
| | We hate spam just as much as you |